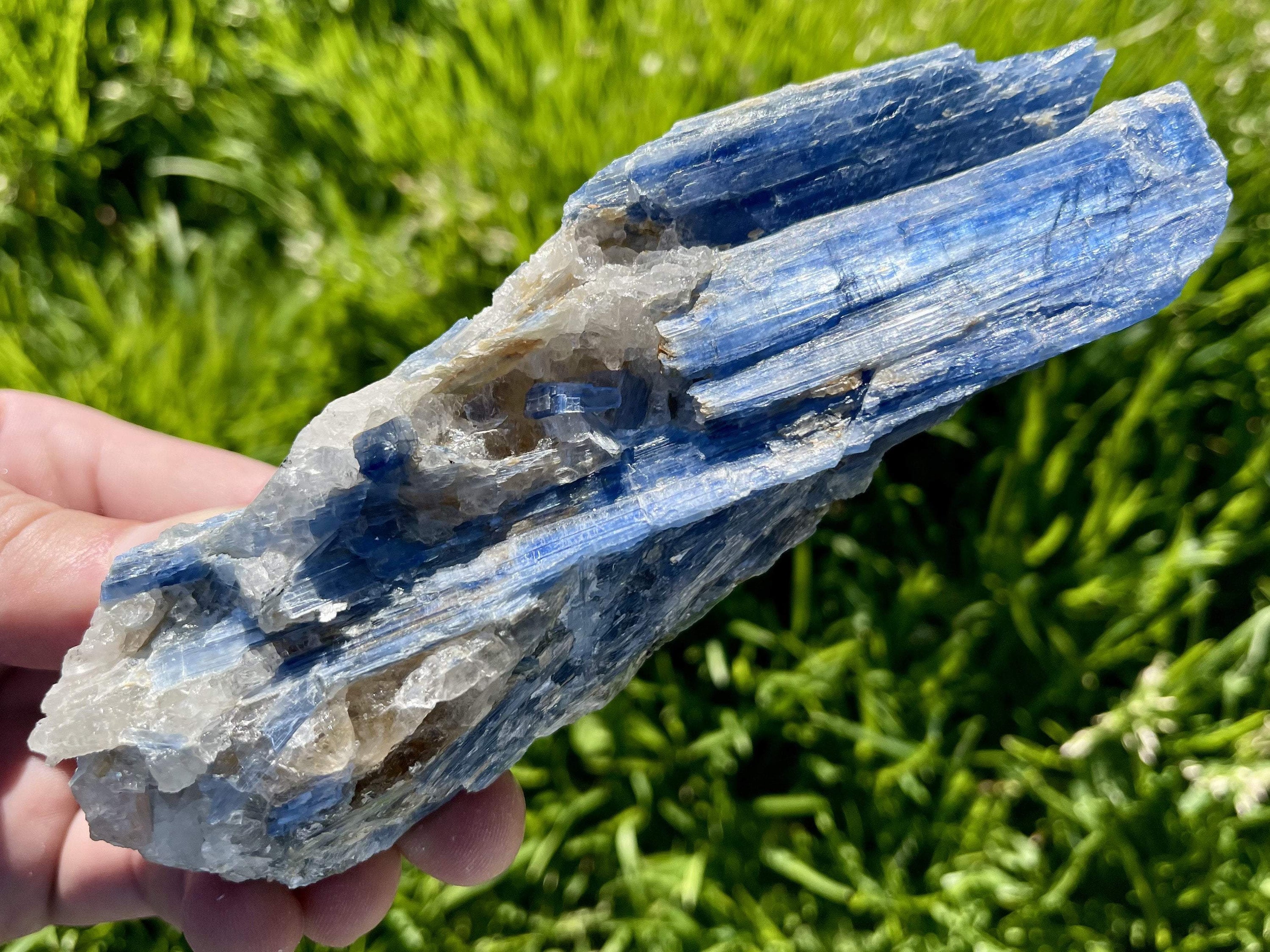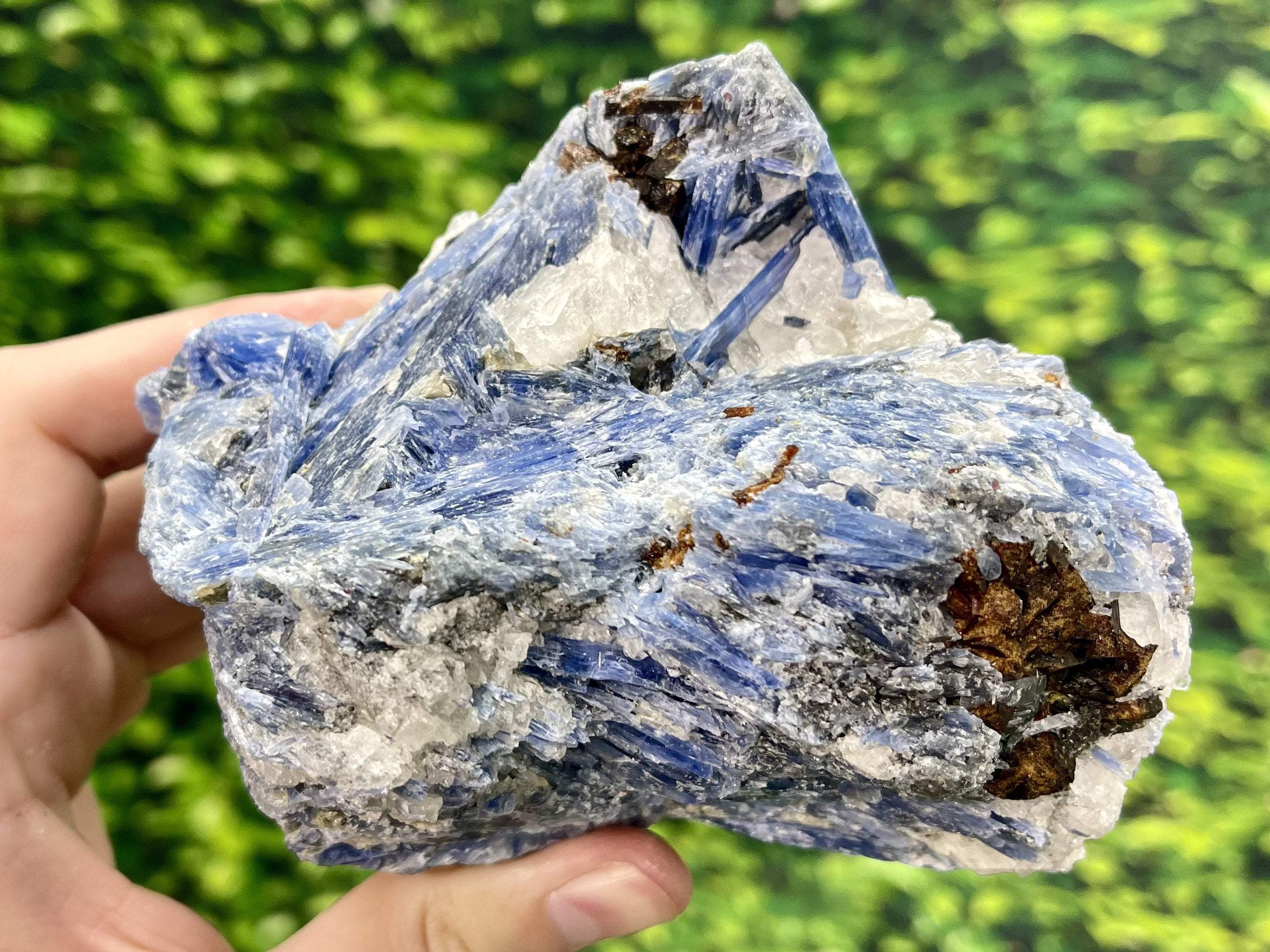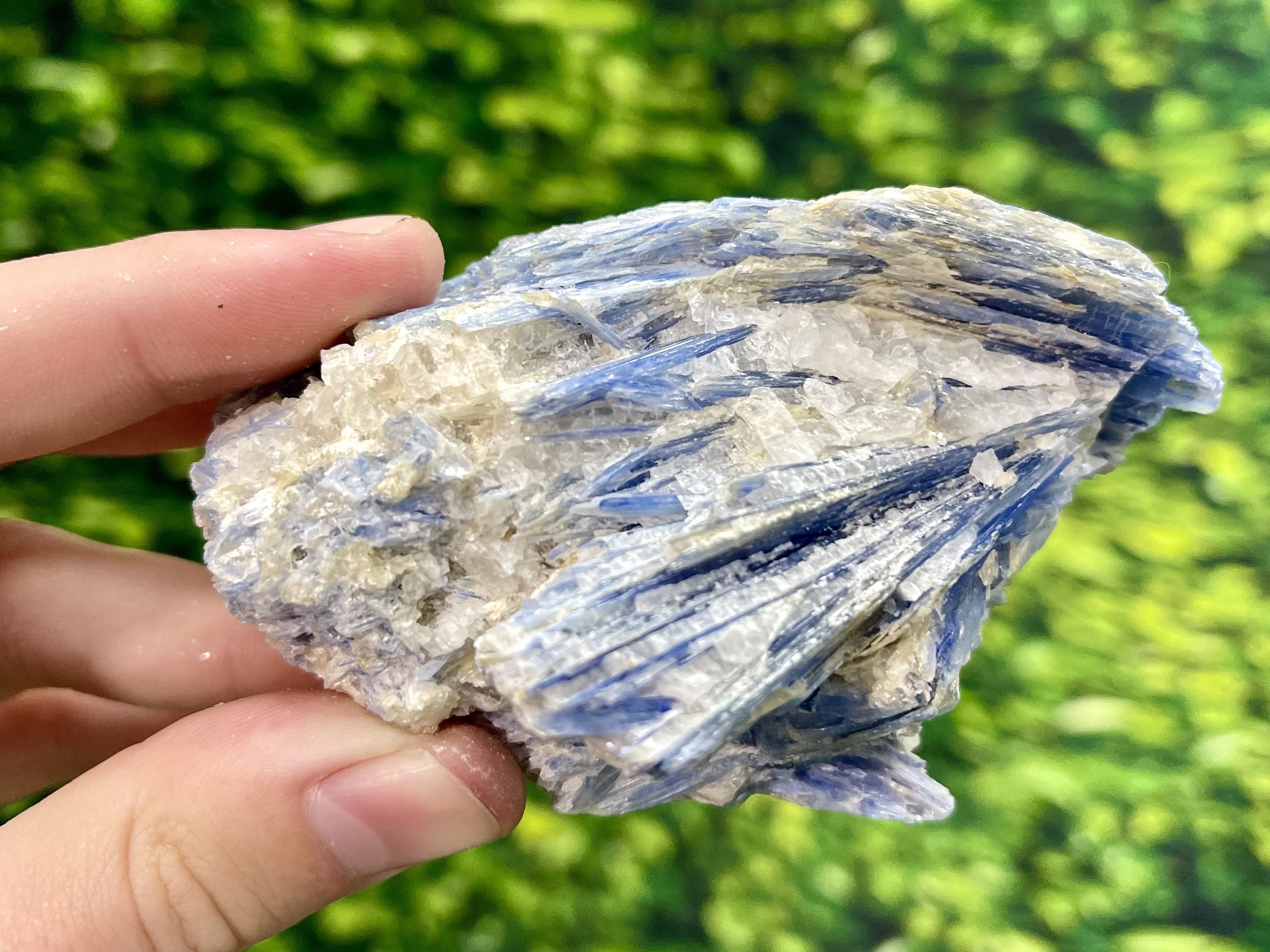 "BLUEBIRD" Kyanite Crystal Specimen HIGH QUALITY Fly Freely
$ 99.99
Regular price
$ 125.99
Subscription • Save
High Quality Kyanite Stone Specimens 
Small:  (≈4.5 - 6.5") 10.0 oz - 17.0 oz
Medium:  (≈4.5 - 6.5") 17.1 oz - 22.0 oz
Large:  (≈6.0 - 8.0") 22.1 oz - 32.0 oz
Extra Large:  (≈7.0" - 11.0") 32.1 oz - 43.0 oz
2X: (≈8.5" - 10.5") 43.1 oz - 54.0 oz
3X: (≈10.5" - 12.5") 54.1 oz - 65.0 oz
4X: (≈15") 136 oz
Origin: Brazil
Kyanite is the perfect stone for communication and intuitive support. It works to improve aspects of the self that benefit from loyalty, integrity and fairness. It is an empowering stone that can shift our perception, encourage self-discovery, and reduce self-destructive behaviors. It is one of only two minerals that don't require cleansing (Citrine is the other) because it doesn't hold onto negative energy.
This one-of-a-kind Kyanite stone is 100% natural and originated from Brazil. It is a small shard that can be carried in your pocket, held in your hand, placed on your Throat or Third Eye chakra during meditation, or displayed in a bowl full of your favorite tumbled stones.
Each piece will differ in size, weight, and appearance. The image shown is a representation of the quality of our kyanite gemstones. One will be handpicked for you. 
100% Natural One-Of-A-Kind Kyanite Stone With Letter of Authenticity
All Items Safely Packed & Insured
All Items Shipped Within 48

 

Hours of Cleared Payment
FREE SHIPPING for order over $35 USD!
Kyanite Properties
Otherwise known as Rhaeticide or Cyanite, Kyanite is composed of aluminum silicate. It appears in long, striated shards that can be transparent or translucent. Typically, it is blue with white, indigo, green, or black streaks, but it also comes in other color variations as well. It has a shimmery appearance.
The name Kyanite derives from the Greek word "kyanos," which means "deep blue." One of its most notable qualities is its anisotropic properties, which allows it to have two different hardnesses depending on the direction in which it is measured.
Kyanite is used industrially for heat resistance purposes in porcelain, bricks, mortar, kiln furniture, brake shoes, grinding wheels, cutting disks, dentures, sinks, and bathroom fixtures.

Natural Birthstone – Vernal Equinox and Spring (February 19 - March 19)
Kyanite Chakra
Balancing your chakras can improve consciousness, health, and one's relationship with the world. The Kyanite stone resonates with the energy of the Throat and Third Eye chakras. As such, it can help us accel when it comes to both communication and psychic awareness. It bridges the connection between the upper and lower chakras so that we can better interpret the spiritual messages we receive, and more openly share our spiritual experiences.
The Feng Shui of Kyanite
Feng Shui is the Chinese system of philosophical laws that govern spatial arrangement and the harmony and flow of energy within a room or building. Crystals work in powerful, yet subtle, ways to attract desired energy and strengthen your personal energy field. Use Kyanite in the North area of your home or room to support you in your career and life path. You can also use it in the areas where you rest to promote energies of rebirth and reflection.
Kyanite Benefits
Opens the mind
Improves psychic abilities
Opens up lines of communication
Provides a supportive healing energy
Aligns the chakras
Calms the body and mind
Helps us access deep meditative states of consciousness
Cleanses other crystals
Inspires loyalty, integrity, and fairness
Helps us settle disagreements and negotiations
Works to improve difficult relationships
Empowers us with self-expression, self-discovery, and authenticity
Brings us harmony through communication
Assists us in ending self-destructive behaviors
Increases memory and logical thinking
Shifts our perception
Kyanite Uses
Place your Kyanite stone on your forehead to help you remember something.
Put one in your child's backpack if they are having trouble fitting in with their peers.
Meditate with a Kyanite stone to help you access deeper states of consciousness.
Keep a Kyanite stone with you when you are around people you tend to argue with.
Place a bowl of Kyanite stones on the kitchen table to bring harmony to family relationships.
Place your other crystals near your Kyanite stones to cleanse them.
Keep a Kyanite stone with you while journaling to help you understand yourself and your situation with new eyes.
Place one on your desk while working to help you remember and think clearly.
* Crystals and stones should not be used as a substitute for medical advice or treatment. Please read our full disclosure notice here.
Our Shipping & Return Policy
Everything on our site ships free within the U.S. All items 70 lbs. and under ship within 48 hours. All other items will ship within 3 business days via pallet. We have years of experience with handling these items, and we ensure that your crystal arrives in mint condition. In cases of large items, please include a phone number so the freight company can schedule delivery.

All items are 100% insured and expertly packed in top quality shipping materials. Returns are accepted for practical reasons. Buyers are responsible for filing insurance claims.
International Shipping 
Please include a phone number for the duty entry process. All international shipping prices are calculated automatically when you place your order online, but you are welcome to contact us directly for more precise shipping quotes.
We are a top rated, award-winning mineral dealer offering fine mineral specimens for sale at sensible prices with outstanding customer service. We have a 99% satisfaction rate, we value our customers tremendously, and we take pride in providing an excellent experience.
"BLUEBIRD" Kyanite Crystal Specimen HIGH QUALITY Fly Freely
$ 99.99
Regular price
$ 125.99