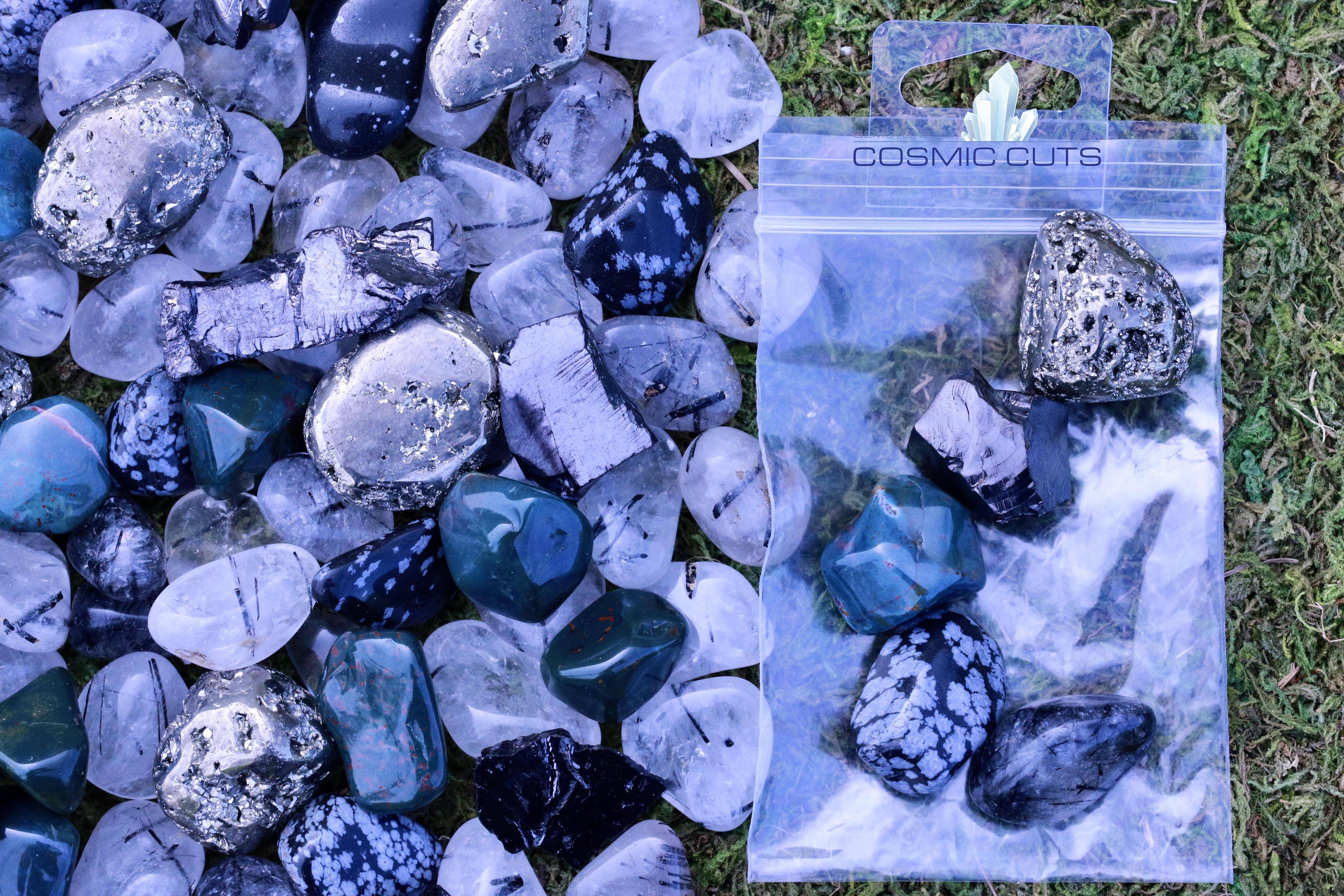 "EMF Protection Stones Bag" Premium Quality Healing Gemstone Collection for Electromagnetic Frequencies
$ 25.99
Regular price
$ 32.99
Subscription • Save
Crystals for EMF Protection
In these strange, troubling times, we often find ourselves running for the shelter of alternative realities. While there are many benefits to technology and informative modern tools, the more we subject ourselves to them; the greater the possibility for negative side effects to take hold.
All of the crystals in this bag are exceptionally high quality and will help in virtually every aspect of your life. While this is true, all 5 of these stones specialize in wiping out harmful invisible electromagnetic frequencies that affect us inside and out.
This EMF Protection Stones collection bag is ESSENTIAL for life in the computer age.
"EMF Protection Stones" Healing Gemstone Collection
For this " EMF Protection" Healing Gemstone collection, we have hand selected 5 healing stones: Elite Shungite, Pyrite, Snowflake Obsidian, Tourmalinated Quartz, and Bloodstone. The set includes one of each of these, along with a bag. 
Elite Shungite
1st Crystal – Ultimate Protection – Total Positivity - Healing
Elite Shungite is the perfect choice for cancelling out EMF radiation, as well as protecting you physically and spiritually. It is one of the most detoxifying minerals on the planet and it is the only natural source of fullerenes. Shungite is often faked, but Elite Shungite cannot be faked. See and feel the difference for yourself!
Pyrite
2nd Crystal – Universal Power – Full Protection – Wealth & Health
Known as the "Stone of Wealth," Pyrite emits powerful, positive energy and repels all types of negativity away from the user. EMFs don't stand a chance around Pyrite as it directs the energy where it needs to go and cancels out anything else. It's a powerhouse of a crystal that is good for every aspect of your life
Snowflake Obsidian
3rd Crystal – Deflects Negative Energy – Endurance – Aura Cleansing
Snowflake Obsidian brings light into the darkness of our souls. It protects against negative energy and negative entities, and it makes us endlessly more capable of handling intense situations and change. It is also excellent at cancelling out electromagnetic frequencies. It's truly an empowering and transformative self healing tool.
Tourmalinated Quartz
4th Crystal – Total Protection – Strength – Grounding - Energizing
Tourmalinated Quartz is a mighty gemstone that provides protection in the physical and spiritual realms. It helps us see things and people as they really are, and it assists us in understanding our emotions related to those situations and people. It boosts physical energy and stamina while offering a grounding and stabilizing energy through a deep connection to the earth. 
With its help, we can see the world through our own ideas, emotions, and wisdom, instead of worrying about what others think about our decisions. Electromagnetic frequencies get cancelled out by both the Clear Quartz and the Black Tourmaline that comprise this powerful stone.
Bloodstone
5th Crystal – Converts Negativity – Sun's Healing Light – Personal Growth
Bloodstone eliminates negative aspects of one's environment, whether it be EMF's or negative energy. It transmutes negative energy, thoughts, and feelings into positive ones. It is the stone to use when you want to improve your motivation and manifest your desires. 
Bloodstone brings the energy of the sun into our lives, and promotes vitality, joy, and warmth. Its inspiring energy provides us with fresh beginnings and a love for life itself. As a result, bloodstone boosts self-confidence and personal power.
How to Meditate With EMF Protection Crystals
These crystals help deepen and strengthen the results of meditation and chakra opening. Each crystal has a different energy, and some crystals work to enhance the energy of the chakras.
When you meditate with crystals that share the energy of the chakras (chakra crystals), your meditation practice and your results will be more powerful. You might choose to place the chakra crystals in your palm as you meditate, or you can place them on the body in the area of each chakra while lying down (the clear quartz will be placed above your head).
As you meditate, visualize the chakra crystals pouring their energy into your chakras one at a time.
Our Shipping & Return Policy
Everything on our site ships free within the U.S. All items 70 lbs. and under ship within 24 hours. All other items will ship within 3 business days via pallet. We have years of experience with handling these items, and we ensure that your crystal arrives in mint condition. In cases of large items, please include a phone number so the freight company can schedule delivery.

All items are 100% insured and expertly packed in top quality shipping materials. Returns are accepted for practical reasons. Buyers are responsible for filing insurance claims.
International Shipping 
Please include a phone number for the duty entry process. All international shipping prices are calculated automatically when you place your order online, but you are welcome to contact us directly for more precise shipping quotes.
We are a top rated, award-winning mineral dealer offering fine mineral specimens for sale at sensible prices with outstanding customer service. We have a 99% satisfaction rate, we value our customers tremendously, and we take pride in providing an excellent experience.
"EMF Protection Stones Bag" Premium Quality Healing Gemstone Collection for Electromagnetic Frequencies
$ 25.99
Regular price
$ 32.99