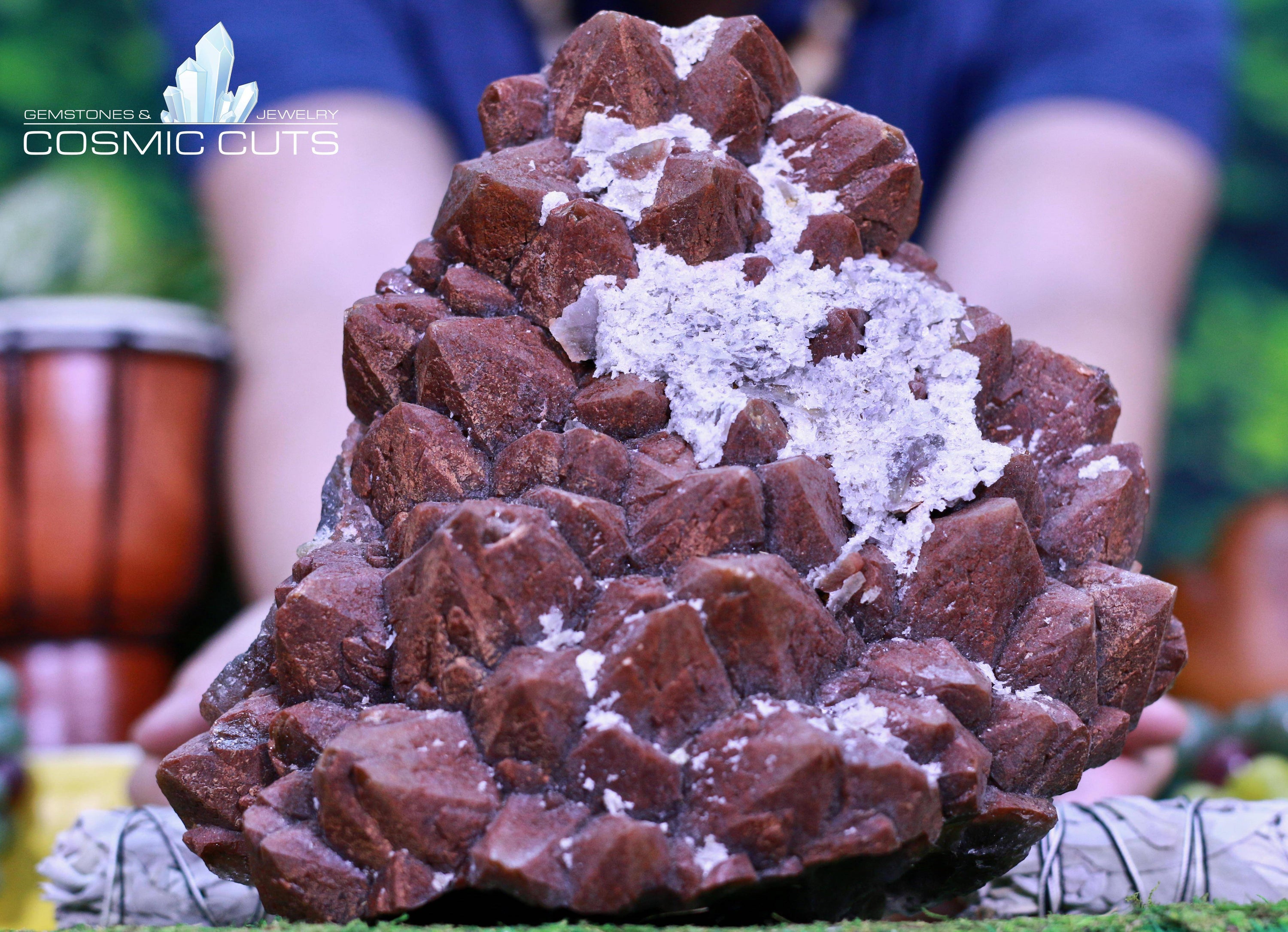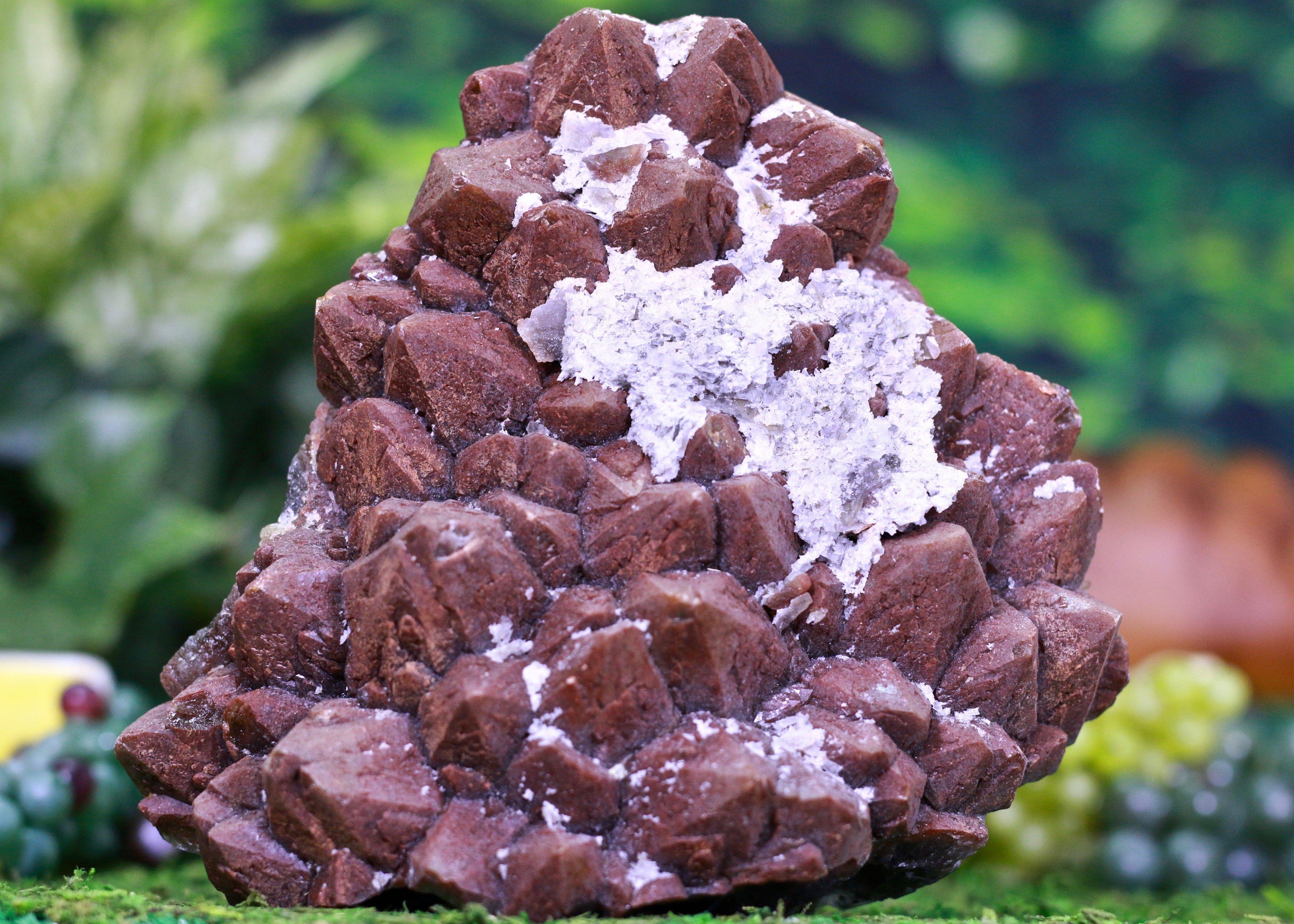 Super Seven Crystal Cluster w Calcite Striations Rare Mineral High Quality II-14s
$ 1,825.99
Regular price
$ 2,225.95
Subscription • Save
Super Seven Crystal Cluster
The Super Seven stone is one of the most prized and unique crystals. It is a valuable tool for improving our connection with spirit, and since it contains seven different stones, it provides the healing properties of all of them. It is also known as Sacred Seven and Melody's Stone.
This one-of-a-kind Super Seven stone is 100% natural and originated from Brazil. It is a small stone that can be carried in your pocket, held in your hand, placed on your any of your chakras during meditation, or displayed in a bowl full of your favorite stones.
Weight of Super Seven: 6 lb 7 oz 
Size of Super Seven: 9.25" x 4.00" x 7.75"
Origin: Brazil
100% Natural One-Of-A-Kind Super Seven With Letter of Authenticity
All Items Safely Packed & Insured
All Items Shipped Within 24 Hours of Cleared Payment
FREE SHIPPING!
Super Seven Properties
Super Seven got its name from the fact that it contains a mixture of seven powerful healing stones: Amethyst, Clear Quartz, Smoky Quartz, Geothite, Lepidocrocite, Cacoxenite, and Rutile. It is only found in one location in Brazil (Espirito Santo) and is therefore relatively rare. 
Hematite often coats the entire surface of Super Seven, which helps to ground the higher vibrational frequencies of the other stones into the crystal. Coated Super Seven is the rarest variety of Super Seven, and it really should be called Super Eight.
Each of the seven crystals have their own set of healing properties that can assist us in our life: 
Amethyst is a calming stone that balances the Crown Chakra and the Third Eye Chakra. It helps us improve our psychic abilities and access our spiritual nature. It also works to transmute negative energy into the energy of love. 
Clear Quartz amplifies the healing properties of all of the other crystals in Super Seven. It also raises our vibration and helps us to access higher consciousness as it opens the Crown Chakra. 
Lepidocrocite is a Heart Chakra stone that promotes emotional healing and healthy relationships. It is one of the stones most known for Divine love. It is also beneficial for the Crown and Third Eye Chakras.
Smoky Quartz is a grounding stone that helps us have good luck and manifest our desires. It has powerful cleansing and protective properties, and it aims to release painful memories and the blocks that hold us back.
Rutile is a Lower Chakra stone that can also assist us in bridging our connection to the Divine. It amplifies the other crystals in Super Seven as it assists us with transitions and supports us in accelerating our growth.
Geothite is an Upper Chakra stone that helps us to heal our past lives and to process grief. It deepens our connection with Mother Earth and promotes better communication and focus.
Cacoxenite
is a Solar Plexus stone that helps us align our will with our Divine purpose. It also aligns the Crown & Third Eye Chakras, assisting us with our spiritual awakening and raising our vibration. It is especially valuable when we want to release negative attachments and cords.
Super Seven Chakra Information
Balancing your chakras can improve consciousness, health, and one's relationship with the world.  The high energy crystals in Super Seven work in unison to align all seven of the chakras. Together, the crystals in this unique stone promote healing of all aspects of the self: the mind, body, and spirit.
The Feng Shui of Super Seven Stones
Feng Shui is the Chinese system of philosophical laws that govern spatial arrangement and the harmony and flow of energy within a room or building. Crystals work in powerful, yet subtle, ways to attract desired energy and strengthen your personal energy field. Because Super Seven contains such a variety of crystals, it is a useful Feng Shui tool in any area of a room or house.
Super Seven Benefits
Helps us attune our energy to higher frequencies
Offers a deeper understanding of our soul mission
Connects us to our past lives and the ancient knowledge they contain
Expands our consciousness
Promotes mental clarity
Aims to unlock hidden blocks and assists us in working through them
Assists us in accessing higher knowledge
Helps us move forward so that we can accomplish our goals
Provides us with a strong healing energy
Inspires acts of brotherhood
Enhances the senses
Helps us see auras
Supports psychic abilities of all types (clairvoyance, clairaudience, clairsentience, telepathy, channeling, telekinesis)
Improves our personal power
Raises our vibration
Promotes wisdom
Sparks ideas
Works to reduce infections
Ideas For How To Use Your Super Seven Stone
Place your Super Seven stone on any of your chakras during meditation to balance the body's energy system.
Keep it near you when you are searching for answers from your soul.
Hold your Super Seven stone in your hand when you are doing past life work to help you remember your past lives.
Place a Super Seven stone on your desk while you are working to boost mental clarity.
Have a Super Seven stone with you when you are planning and working toward your goals.
Place a Super Seven stone on the kitchen table to inspire supportive actions between family members.
Keep Super Seven stones with you to raise your vibration and enhance your spiritual experiences.
* Crystals and stones should not be used as a substitute for medical advice or treatment. Please read our full disclosure notice here.
Our Shipping & Return Policy
Everything on our site ships free within the U.S. All items 70 lbs. and under ship within 24 hours. All other items will ship within 3 business days via pallet. We have years of experience with handling these items, and we ensure that your crystal arrives in mint condition. In cases of large items, please include a phone number so the freight company can schedule delivery.

All items are 100% insured and expertly packed in top quality shipping materials. Returns are accepted for practical reasons. Buyers are responsible for filing insurance claims.
International Shipping 
Please include a phone number for the duty entry process. All international shipping prices are calculated automatically when you place your order online, but you are welcome to contact us directly for more precise shipping quotes.
We are a top rated, award-winning mineral dealer offering fine mineral specimens for sale at sensible prices with outstanding customer service. We have a 99% satisfaction rate, we value our customers tremendously, and we take pride in providing an excellent experience.
Super Seven Crystal Cluster w Calcite Striations Rare Mineral High Quality II-14s
$ 1,825.99
Regular price
$ 2,225.95