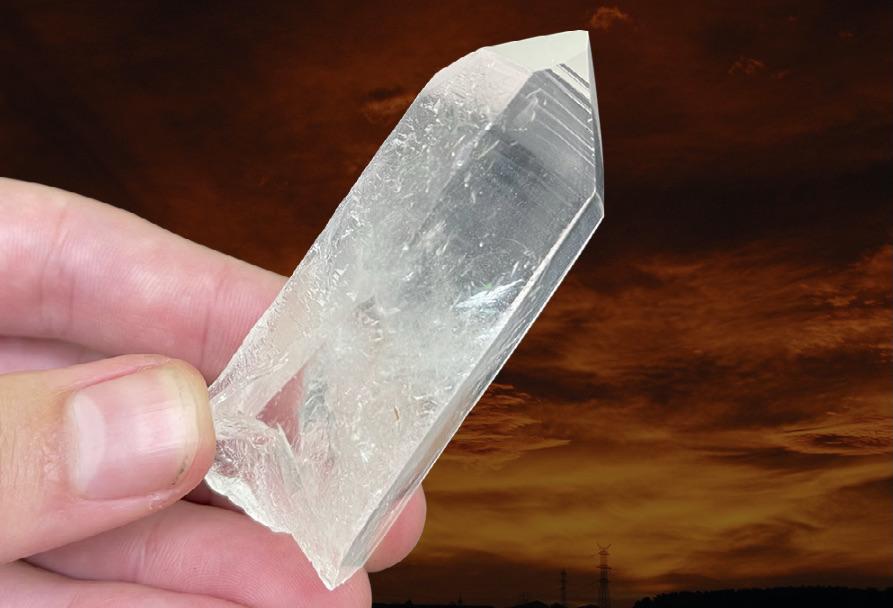 "TEACHINGS FROM ABOVE" Lemurian Quartz High Quality Crystal Point
$ 5.99
Regular price
$ 15.99
Subscription • Save
The Lemurian Quartz for sale are featured in the "Crystals For Beginners" video!
Check it out!
Lemurian Quartz Crystal
Also known as Lemurian Seed Crystals, Lemurian Quartz were used in Ancient Lemuria by master healers for many purposes, including energy work, DNA awakening, and technology. They hold within them the spiritual wisdom and knowledge of the ancients, and they can be used to awaken that knowledge within us.
This one-of-a-kind Lemurian Quartz crystal is 100% natural and originated from Brazil. It is a small, tumbled stone that can be carried in your pocket, held in your hand, placed on your heart chakra during meditation, or displayed as a reminder for past life recall.
Each piece will differ in size, weight, and appearance. The image shown is a representation of the quality of our Lemurian Quartz Crystals. One will be handpicked for you.
Small (≈1.5 - 3") (1.0 oz - 1.9 oz)
Medium (≈2.5 - 3 .5") (2.0 oz - 2.9 oz)
Large (≈2.5 - 3.5") (3.0 oz - 3.9 oz)
Extra Large (≈3 - 3.5")(4.0 oz - 5.5 oz)

Origin: Brazil
100% Natural One-Of-A-Kind Lemurian Quartz With Letter of Authenticity
All Items Safely Packed & Insured
All Items Shipped Within 24 Hours of Cleared Payment
FREE SHIPPING ON $35!
Lemurian Quartz Properties
Lemurian Quartz crystals were used in Ancient Lemuria by master headers for the purposes of technology, DNA awakening, healing work, and more.
Lemuria was an island in the Pacific Ocean with highly evolved people. They had technology and knowledge tha tfar surpassed what we know today. Like Atlantis, it was destroyed. But legends tell us that a small group of people were able to escape before the island was destroyed and they programmed these crystals with their knowledge, brought them with them, and buried them so that they wouldn't fall into the wrong hands.
Lemurian Quartz was first found in Brazil, and it has since been found in Colombia, Russia, Zambia, Tibet, and the U.S.A.
Lemurian Seed Quartz crystals can form in any variety of Quartz, which influences its healing properties.
Original Lemurian Quartz contained horizontal striated lines that ran the distance of each alternating side of the crystal. Now, any of the sides can have it as new families of this crystal have been found, but they must have some level of striations to be considered a Lemurian Seed Crystal. 
The striations represent timelines of human development. It is said that if you meditate with them and touch different striations, you can connect with events from different timelines throughout history.
Birthstone Month – Lemurian Quartz is not a birthstone.
Lemurian Quartz & The Crown Chakra
Balancing your chakras can improve consciousness, health, and one's relationship with the world. Lemurian Quartz crystals resonate with the energy of the crown chakra. They can help you connect to high consciousness and awaken to universal knowledge. Depending on the type of Quartz contained in the Lemurian Seed Crystal, it can also help to balance other chakras that correspond with its color.
The Feng Shui of Quartz
Feng Shui is the Chinese system of philosophical laws that govern spatial arrangement and the harmony and flow of energy within a room or building. Crystals work in powerful, yet subtle, ways to attract desired energy and strengthen your personal energy field. Quartz can be placed in a window where it can take in the sun's rays and disperse a prism of light and energy throughout the room. This uplifts the energy in the room and provides a feeling of warmth and healing energy.
Lemurian Quartz Healing Properties & Benefits
Contains spiritual wisdom and ancient knowledge that can be accessed by meditating with it
Helps us access past lives, past civilizations, divine realms, and angels and guides
Inspires unity and connection, easing feelings of loneliness
Awakens our intuition and universal wisdom
Uplifts, comforts, and emits energies of divine love
Works to remove energy blockages and toxins
Promotes emotional healing and self-love
Amplifies your intentions, helping to improve manifestation ability
Supports a healthy spine, veins, circulatory system, and cellular memory
Aims to alleviate pain.
Ideas For How To Use Your Lemurian Seed Crystal
Meditate with Lemurian Quartz on your third eye to tap into universal knowledge.
Keep it with you during past life recall sessions.
Sleep with a Lemurian Quartz crystal under your pillow to spark past life memories during dreams.
Place a Lemurian Seed Crystal on your heart to experience love and emotional healing.
Keep one with you when you're feeling lonely.
Use Lemurian Quartz in combination with other crystals to amplify their healing properties.
Hold it while journaling to tap into your innate wisdom.
Place a Lemurian Quartz on your chakras to help remove blocks.
* Crystals and stones should not be used as a substitute for medical advice or treatment. Please read our full disclosure notice here.
Our Shipping & Return Policy
Everything on our site ships free within the U.S. All items 70 lbs. and under ship within 24 hours. All other items will ship within 3 business days via pallet. We have years of experience with handling these items, and we ensure that your crystal arrives in mint condition. In cases of large items, please include a phone number so the freight company can schedule delivery.

All items are 100% insured and expertly packed in top quality shipping materials. Returns are accepted for practical reasons. Buyers are responsible for filing insurance claims.
International Shipping 
Please include a phone number for the duty entry process. All international shipping prices are calculated automatically when you place your order online, but you are welcome to contact us directly for more precise shipping quotes.
We are a top rated, award-winning mineral dealer offering fine mineral specimens for sale at sensible prices with outstanding customer service. We have a 99% satisfaction rate, we value our customers tremendously, and we take pride in providing an excellent experience.
"TEACHINGS FROM ABOVE" Lemurian Quartz High Quality Crystal Point
$ 5.99
Regular price
$ 15.99