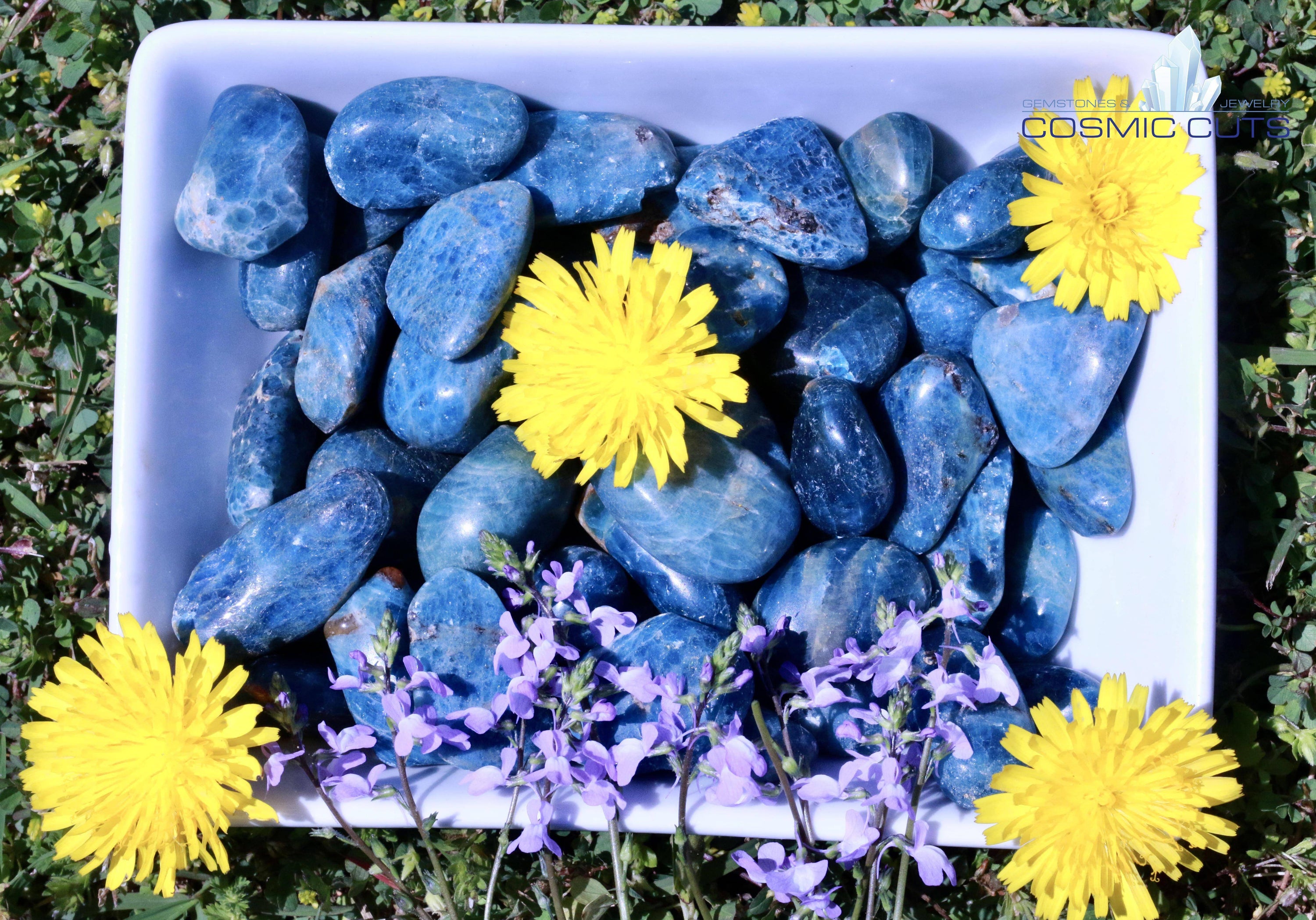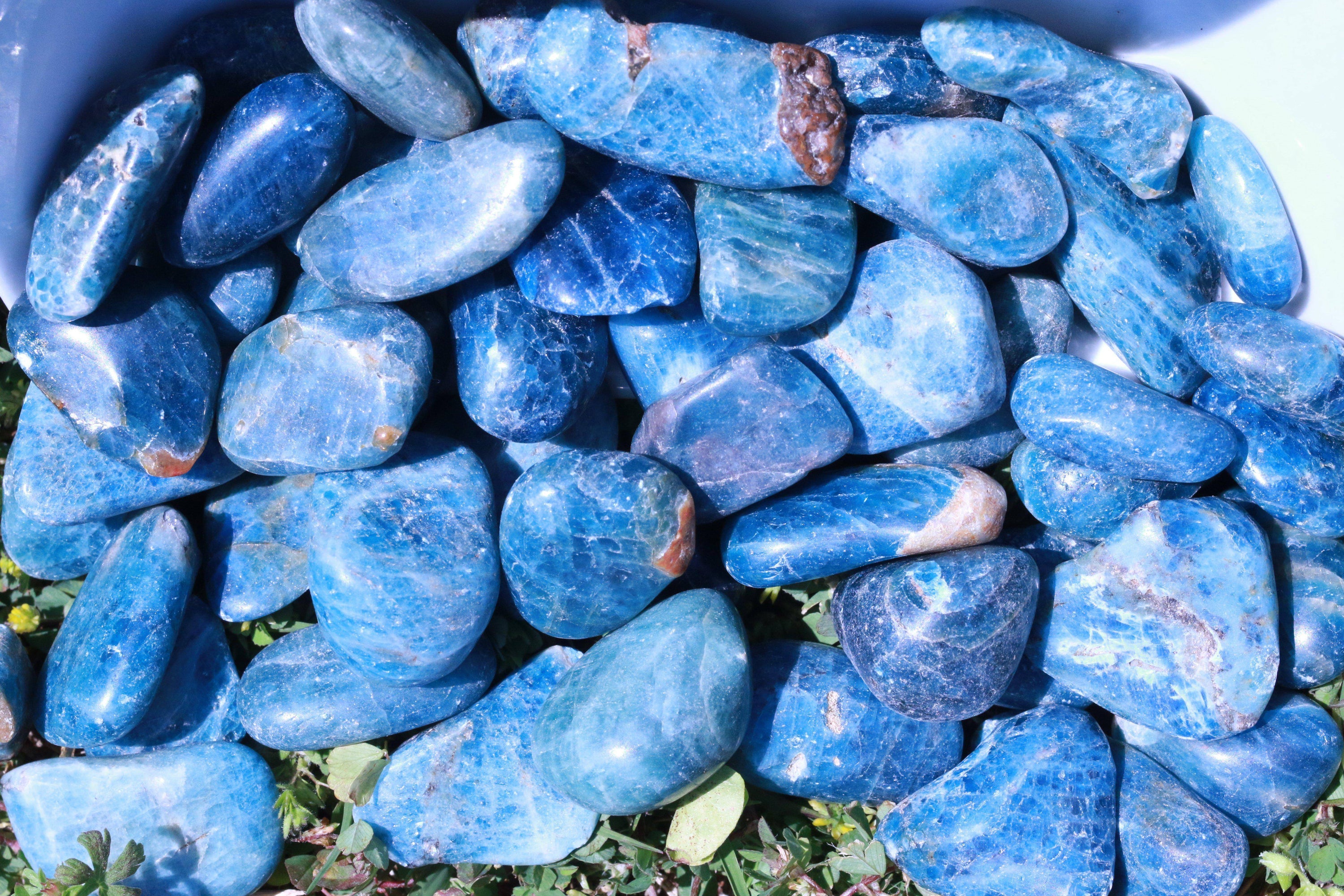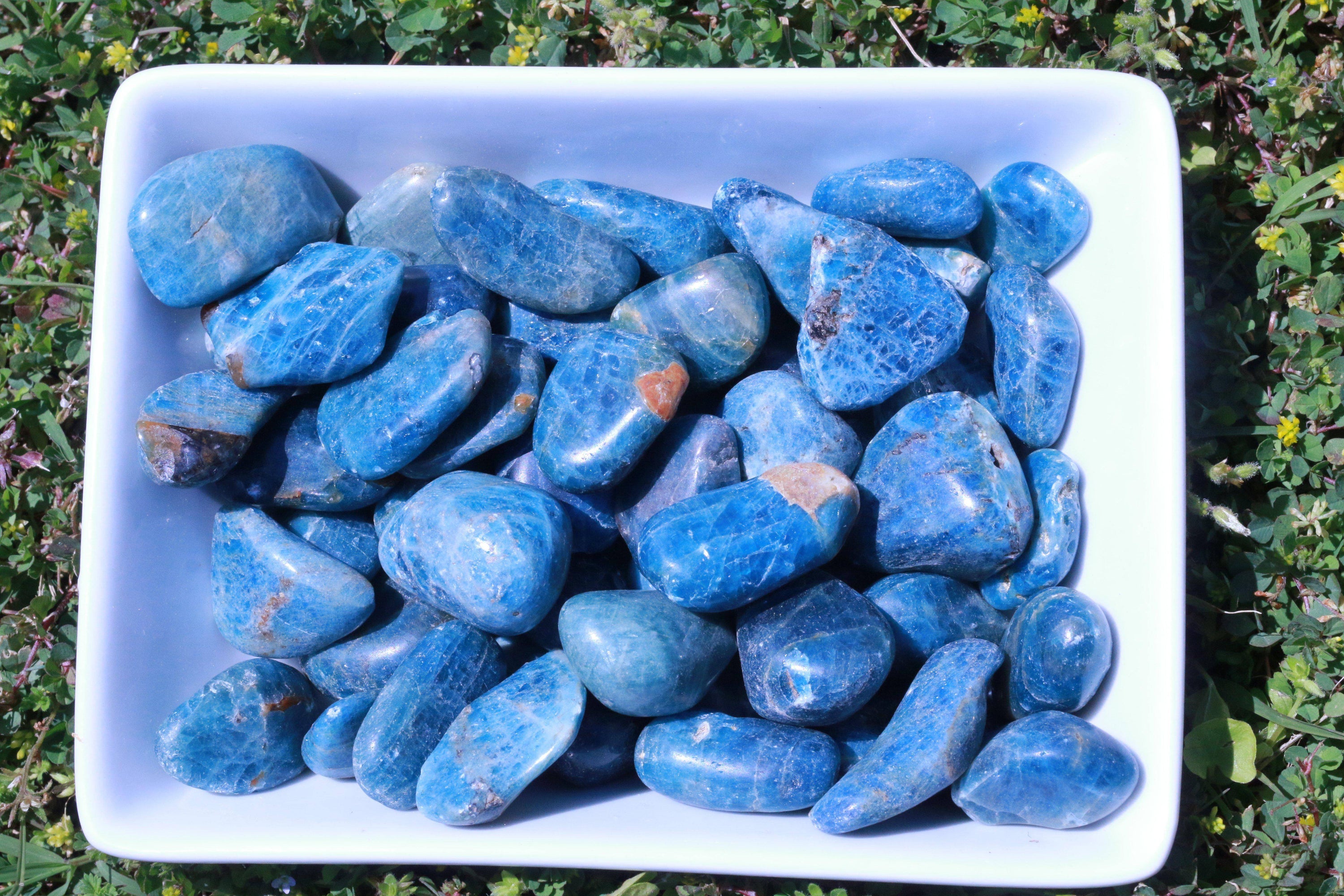 Tumbled Blue Apatite Stone "Releases Guilt"
Blue Apatite Tumbled Stones
Blue Apatite is one of the best crystals to work with for past life regressions and to tap into multiple levels of consciousness. It is a motivating stone, inspiring us with creativity and reducing the emotions that stand in our way. It has also been known to help make diets and weight loss easier. 
This one-of-a-kind Blue Apatite stone is 100% natural and originated from Brazil. It is a small, tumbled stone that can be carried in your pocket, held in your hand, placed on your throat chakra or third eye during meditation, or displayed in a bowl full of your favorite tumbled stones. 
Each piece will differ in size, weight, and appearance. The image shown is a representation of the quality of our Blue Apatite Stones. One will be handpicked for you.
100% Natural One-Of-A-Kind Blue Apatite With Letter of Authenticity
All Items Safely Packed & Insured
All Items Shipped Within 24 Hours of Cleared Payment
FREE SHIPPING!
Blue Apatite Properties
Blue Apatite comes in many shades of blue, and it can have areas of green and gold. Apatite is a Greek derivative that means "to deceive" because it is easy to mistake it for other crystals due to all of its varying shades of color.
An interesting fact is that it is composed of the same mineral phosphate as the bones, teeth, horns, antlers, and tusks of vertebrate animals.
Natural Birthstone – Vernal Equinox & Spring (February 19 - March 19)
Blue Apatite Chakra
Balancing your chakras can improve consciousness, health, and one's relationship with the world. The Blue Apatite gemstone resonates with the energy of the throat and third eye chakras. It helps us speak our truth and opens up our intuition. It bridges the communication between the upper and lower chakras so that we can better interpret the spiritual messages we receive, and more openly share our spiritual experiences.
The Feng Shui of the Blue Apatite Gemstone
Feng Shui is the Chinese system of philosophical laws that govern spatial arrangement and the harmony and flow of energy within a room or building. Crystals work in powerful, yet subtle, ways to attract desired energy and strengthen your personal energy field. Placing Blue Apatite in the north area of the home or room will balance your work life and personal life, and will help you to move your life forward.
Blue Apatite Uses & Benefits
Enhances our personal power
Helps us achieve our goals
Removes confusion and apathy
Releases negativity and guilts
Stimulates the mind and primes it for knowledge
Inspires service to others
Cleanses the aura
Increases psychic abilities
Helps us access the Akashic records and assists us with past-life work
Sparks creative ideas for solving problems
Opens us to the many levels of consciousness
Motivates us
Inspires independence
Reduces anger, sorrow, and irritability
Supports healthy eating, reduces the appetite, and increases metabolism
Promotes healthy bones, teeth, cartilage, and joints
Helps to improve eyesight, dizziness, and headaches
Ideas For How To Use Your Blue Apatite Tumbled Stone
Keep your Blue Apatite stone with you when you are trying to find work.
Place it next to you when you are journaling to help you tap into your subconscious for creative problem solving.
Hold Blue Apatite in your hand when you are doing past life and karmic work.
Create a Blue Apatite elixir for hunger suppression.
Place it in your pocket when you are going for dental work to reduce fears.
Keep your Blue Apatite stone with you to reduce social anxiety.
Meditate with Blue Apatite to induce deeper states of consciousness.
Place it on areas of arthritis to help ease the symptoms.
Bring your Blue Apatite stone with you everywhere when you are trying to lose weight.
* Crystals and stones should not be used as a substitute for medical advice or treatment. Please read our full disclosure notice here.
Our Shipping & Return Policy
Everything on our site ships free within the U.S. All items 70 lbs. and under ship within 24 hours. All other items will ship within 3 business days via pallet. We have years of experience with handling these items, and we ensure that your crystal arrives in mint condition. In cases of large items, please include a phone number so the freight company can schedule delivery.

All items are 100% insured and expertly packed in top quality shipping materials. Returns are accepted for practical reasons. Buyers are responsible for filing insurance claims.
International Shipping 
Please include a phone number for the duty entry process. All international shipping prices are calculated automatically when you place your order online, but you are welcome to contact us directly for more precise shipping quotes.
We are a top rated, award-winning mineral dealer offering fine mineral specimens for sale at sensible prices with outstanding customer service. We have a 99% satisfaction rate, we value our customers tremendously, and we take pride in providing an excellent experience.
Tumbled Blue Apatite Stone "Releases Guilt"