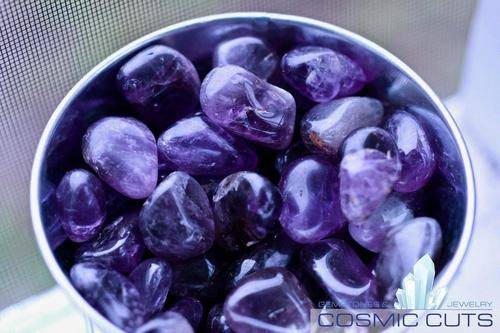 Tumbled Amethyst Stone - DIVINE LIGHT Healing Gemstone GOOD VIBES
$ 3.99
Regular price
$ 5.99
Subscription • Save
Tumbled Amethyst Stones
Tumbled Amethyst stones are powerful healing crystals that are extremely versatile in how they can be used. They provide a sense of calm, yet they help us stay alert at the same time, producing the perfect state for creativity, intellect, and decision-making. Amethyst stones provide protection from negative energy, and they help us tap into our intuition.

This one-of-a-kind amethyst stone is 100% natural and originated from Brazil. It is a small, tumbled stone that can be carried in your pocket, held in your hand, placed on your crown chakra during meditation, or displayed in a bowl full of your favorite tumbled stones.

Each piece will differ in size, weight, and appearance. The image shown is a representation of the quality of our tumbled amethyst stones. One will be handpicked for you.
100% Natural One-Of-A-Kind Amethyst With Letter of Authenticity
All Items Safely Packed & Insured
All Items Shipped Within 48 Hours of Cleared Payment
FREE SHIPPING for order over $35 USD!
Amethyst Properties
Tumbled Amethyst stones are a type of Quartz. Their beautiful purple color comes from the iron and manganese within them. The most sought-after Amethyst is deep violet, however they range in color and can even be closer to lavender.
Amethyst stones have been used throughout history for many reasons. They used to be considered precious stones before large quantities were found. Now, we consider them to be semi-precious.
Amethyst was the ninth stone in the breastplate of the High Priest and it was known as the Bishop's Stone. In Ancient Egypt, heart-shaped Amethyst amulets were used during burial, and it has always been considered an important stone to astrologers.
Amethyst's name came from the Greek word "ametusthos," meaning "not intoxicated," since it was thought to prevent overindulgence and drunkenness. 
Birthstone Month – February
Zodiac Birthstone – Pisces
Natural Birthstone – Winter Solstice (Nov 21 - Dec 20)
Amethyst Chakras
By balancing our chakras, we can positively impact the way we feel and the way we interact in the world. Amethyst stones work with the Third Eye and Crown chakras to connect us to higher consciousness, increase our psychic and intuitive powers, shield us from negative energy, and help us access the wisdom that can only come from a universal perspective.
Amethyst Feng Shui
Feng Shui helps us to improve our lives by balancing the energy in our environment, and crystals are one of the best ways to do that. Amethyst stones provide fire energy, which is useful when placed in the South area of a home or room, otherwise known as the Fame & Recognition area. When you place an Amethyst stone there, it will help you improve your standing in your community and your family.
Amethyst Stone Benefits
Soothes and calms the body, mind, and spirit
Promotes a calm yet alert state
Reduces stress and anxiety
Clears the mind and prepares it for meditation
Helps us raise our frequency
Improves intuition, clairvoyant, and psychic powers
Provides wisdom and helps us understand things from a new perception
Transmutes negative energy into love
Aims to reduce addiction and overindulgence
Helps us move away from negative and evil thoughts
Promotes protection during travel
Protects us against black magic and psychic attack
Helps us make better decisions
Promotes the healthy function of hormones
Improves blood oxygen flow
Promotes a healthy stomach, heart, and skin
Useful for arthritis, tinnitus, and headaches
Ideas For How To Use Your Amethyst Tumbled Stone
Put an Amethyst stone under your pillow to reduce insomnia and nightmares.
Place a tumbled Amethyst stone in your child's pocket to reduce hyperactivity.
Keep one with you when you are doing creative things to enjoy a relaxed yet alert state that is perfect for inspiration.
Place a bowl of tumbled Amethyst stones near the entrance of your house for protection and cleansing of negative energy.
Place one on your desk to reduce work stress.
Hold Amethyst stones while you meditate to settle your mind and help you access higher consciousness.
Place a bowl of tumbled Amethyst stones in your kitchen to raise the frequency in your home.
Place one in your pocket to release anger and negative emotions.
Keep an Amethyst stone with you when you are trying to overcome an addiction.
* Crystals and stones should not be used as a substitute for medical advice or treatment. Please read our full disclosure notice here.
Our Shipping & Return Policy
All items 70 lbs. and under ship within 48 hours. All other items will ship within 3 business days via pallet. We have years of experience with handling these items, and we ensure that your crystal arrives in mint condition. In cases of large items, please include a phone number so the freight company can schedule delivery.

All items are 100% insured and expertly packed in top quality shipping materials. Returns are accepted for practical reasons. Buyers are responsible for filing insurance claims.
International Shipping 
Please include a phone number for the duty entry process. All international shipping prices are calculated automatically when you place your order online, but you are welcome to contact us directly for more precise shipping quotes.
We are a top rated, award-winning mineral dealer offering fine mineral specimens for sale at sensible prices with outstanding customer service. We have a 99% satisfaction rate, we value our customers tremendously, and we take pride in providing an excellent experience.
Tumbled Amethyst Stone - DIVINE LIGHT Healing Gemstone GOOD VIBES
$ 3.99
Regular price
$ 5.99