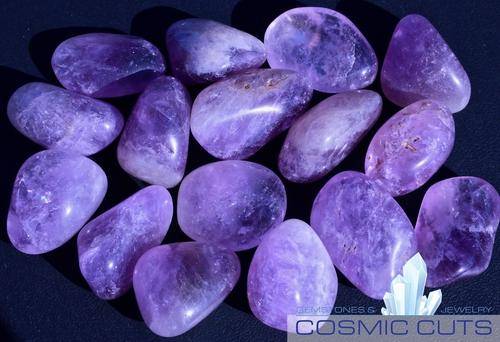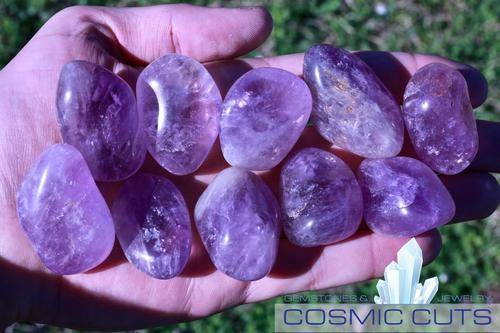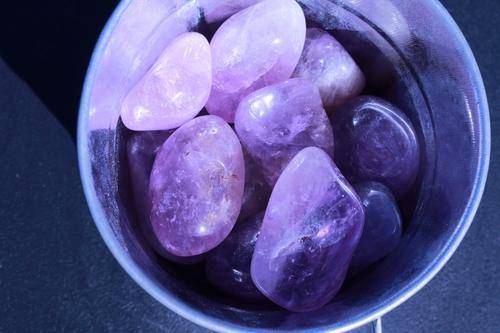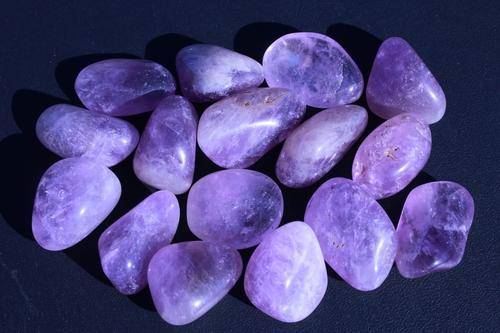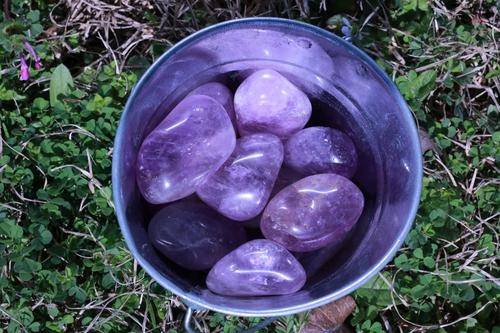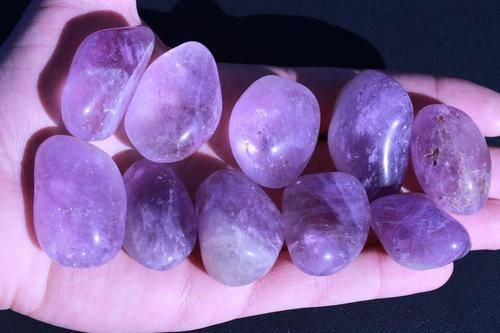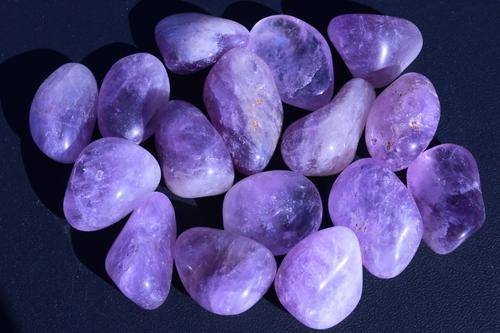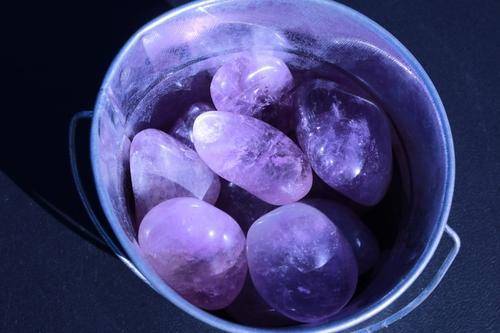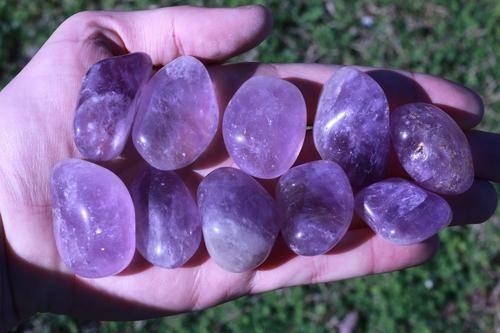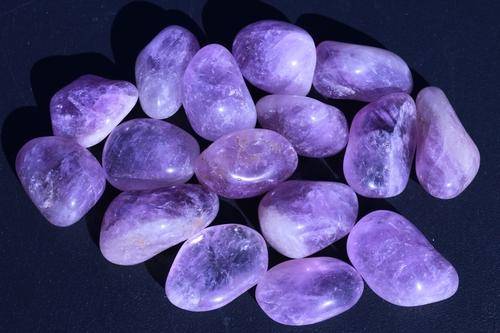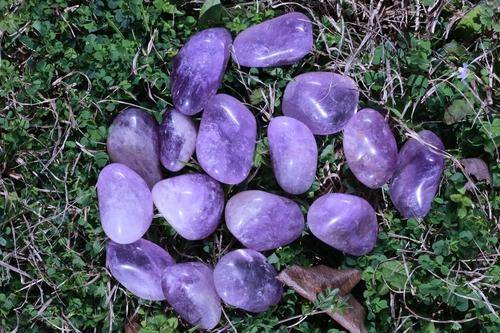 Ametrine Healing Gemstone Naturally Forming Amethyst & Citrine Yin & Yang
Ametrine Tumbled Stones
Ametrine is a complex crystal in that it is a mixture of amethyst and citrine, and it creates a harmonious blend of the energies of both. It improves mental clarity and spirituality, brings feminine (amethyst) and masculine (citrine) energies into harmony, and helps us make powerful changes in our lives.
This 100% natural ametrine stone is one-of-a-kind and originated from Brazil. It is a small, tumbled stone that can be carried in your pocket, held in your hand, placed on your solar plexus or third eye during meditation, or displayed in a bowl full of your favorite tumbled stones.
Each piece will differ in size, weight, and appearance. The image shown is a representation of the quality of our ametrine crystals. One will be handpicked for you.
One-Of-A-Kind 100% Natural Ametrine With Letter of Authenticity
All Items Safely Packed & Insured
All Items Shipped Within 48 Hours of Cleared Payment
FREE SHIPPING for order over $35 USD!
Ametrine Properties
The ametrine stone is from the quartz family and is a mixture of purple and golden yellow swirling together in transparent beauty. Some contain more purple, while others contain more yellow, and the degree of each color within the stone determines how much it will embody the properties of amethyst verses citrine. The color variations are the result of differing oxidation states of iron that occur when there are different temperature gradients within the stone.
Ametrine was only brought to market in the 1970's because of its recent rediscovery. It was originally said to have been discovered in the 1600's, but the mine was lost for over three centuries before it was rediscovered in the 1960's.
Birthstone Month – Ametrine is not a traditional birthstone, but since it is composed of amethyst and citrine, it can be used as a birthstone for either February (amethyst) or November (citrine).
Ametrine & The Solar Plexus, Crown Chakra & Third Eye
Balancing your chakras can improve consciousness, health, and one's relationship with the world. Since the ametrine stone is a combination of citrine and amethyst, it resonates with the energies of the solar plexus (citrine) and crown chakra (amethyst), and on its own, it resonates with the energy of the third eye. The solar plexus is all about personal power and ambition, the crown chakra is about spirituality and higher consciousness, and the third eye is all about imagination and intuition; therefore ametrine can help you link your earthly thinking with your spiritual self. Meditating with it can help us make powerful decisions based on higher guidance.
The Feng Shui of Ametrine
Feng Shui is the Chinese system of philosophical laws that govern spatial arrangement and the harmony and flow of energy within a room or building. Crystals work in powerful, yet subtle, ways to attract desired energy and strengthen your personal energy field. Placing ametrine in the prosperity corner (southeast or upper left corner) in your home or a room will bring about abundance in finances, relationships, and more.
Ametrine Benefits
Promotes inner harmony, optimism, and happiness
Brings about a deeper acceptance of others
Helps us take control of our lives and more easily overcome obstacles
Helps release limiting beliefs
Brings insight to underlying causes of issues in our lives
Makes us feel more courageous
Assists with spiritual connection, and then aligns it with personal power
It is both spiritual and grounding at the same time, so it balances our spiritual and mental selves and links the intellect with higher consciousness
Helps us make powerful changes in our lives
Helps us come up with creative solutions to problems, and improves creativity in general
Amplifies the power of other crystals
Aims to remove toxins from the body
Cleanses and oxygenates the blood, giving renewed life to the physical body
Promotes healthy immune function
Offers support for chronic fatigue syndrome, headaches, depression, ulcers and other stress-related issues
Promotes weight loss
Aims to help us let go of bad habits and addictions
Ideas For How To Use Your Tumbled Ametrine
Place an ametrine stone next to your bed to balance the masculine and feminine energies of your relationship.
Use it to understand the cause of a chronic illness.
Place it on your desk when you are goal planning to help you think of creative ways to overcome your obstacles.
Hold tumbled ametrine in your hand when you are journaling to bring insight into ways to improve your life.
Meditate with ametrine to bring your spiritual and mental selves into balance so you can make powerful decisions and changes in your life.
Place your tumbled ametrine on your head to alleviate a headache.
Hold it in your hand to remove cravings and help you stay on track for weight loss.
* Crystals and stones should not be used as a substitute for medical advice or treatment. Please read our full disclosure notice here.
Our Shipping & Return Policy
All items 70 lbs. and under ship within 48 hours. All other items will ship within 3 business days via pallet. We have years of experience with handling these items, and we ensure that your crystal arrives in mint condition. In cases of large items, please include a phone number so the freight company can schedule delivery.

All items are 100% insured and expertly packed in top quality shipping materials. Returns are accepted for practical reasons. Buyers are responsible for filing insurance claims.
International Shipping 
Please include a phone number for the duty entry process. All international shipping prices are calculated automatically when you place your order online, but you are welcome to contact us directly for more precise shipping quotes.
We are a top rated, award-winning mineral dealer offering fine mineral specimens for sale at sensible prices with outstanding customer service. We have a 99% satisfaction rate, we value our customers tremendously, and we take pride in providing an excellent experience.
Ametrine Healing Gemstone Naturally Forming Amethyst & Citrine Yin & Yang