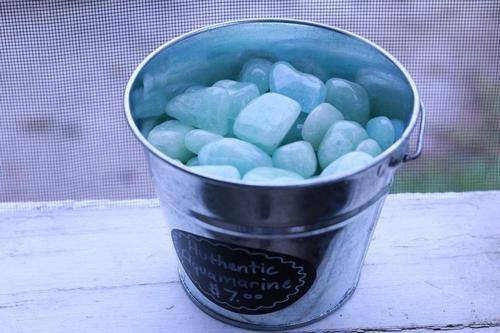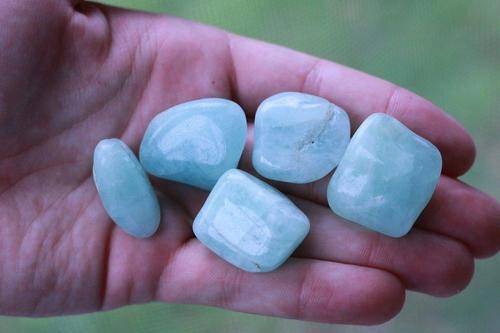 Aquamarine FLOW LIKE WATER Calming Soothing GO WITH THE FLOW Healing Gemstone
Aquamarine Tumbled Stones
Aquamarine is the seawater stone, and as such, it is very soothing, helps us learn to "flow with the waters of life," and is said to be good luck for anyone traveling by water. It carries a gentle energy, but is known as the stone of empowerment, indicating that it provides power without force.
This one-of-a-kind aquamarine stone is 100% natural and originated from Brazil. These small, tumbled stones can be carried in your pocket, held in your hand, placed on your throat chakra during meditation, or displayed in a bowl full of your favorite tumbled stones.
Each piece will differ in size, weight, and appearance. The image shown is a representation of the quality of our aquamarine crystals. One will be handpicked for you.
One-Of-A-Kind 100% Natural Aquamarine With Letter of Authenticity
All Items Safely Packed & Insured
All Items Shipped Within 48 Hours of Cleared Payment
FREE SHIPPING for order over $35 USD!
Aquamarine Properties
Aquamarine ranges from transparent pale blue to greenish-blue, and its color is caused by iron oxide impurities. It is part of the Beryl family, which is composed of beryllium aluminum silicate.
In ancient times, it was thought of as the stone of eternal youth and happiness. It was also known as the stone of the prophets who understood its influence by the moon. The magnetism of the moon on the iron oxides in aquamarine make the stone a powerful forecaster, especially when the moon is increasing.
Birthstone Month – March
Aquamarine & The Throat Chakra
Balancing your chakras can improve consciousness, health, and one's relationship with the world. Aquamarine resonates with the energy of the throat chakra, which gauges how well we are able to express ourselves and communicate our truth. Using your aquamarine tumbled stone while meditating to balance your throat chakra will help you improve your articulation and communication, while reducing your fear of public speaking. It helps us set aside our anger during difficult conversations while being able to fully express what we think and feel.
The Feng Shui of Aquamarine
Feng Shui is the Chinese system of philosophical laws that govern spatial arrangement and the harmony and flow of energy within a room or building. Crystals work in powerful, yet subtle, ways to attract desired energy and strengthen your personal energy field. Place aquamarine in the northern area of your home or in an area of the house where your family tends to be quiet and reflective to enhance those energies and bring about the purifying (water) energy of the stone.
Aquamarine Stone Benefits
Brings a calming, cleansing energy into any space
Inspires truth and trust
Helps its user go with the flow and better handle change
Provides protection for travel that has to do with water
Opens up loving lines of communication
Supports mental functioning and learning abilities
Helps us take responsibility for our actions
Assists us in setting aside judgments and coming to reasonable compromises
Helps people live in harmony and reduces the effects of arguments
Aims to lower the fear of water and assist with learning how to swim
Helps us understand why we are holding onto old limiting beliefs
Improves relationships by helping us discover the ways ego is causing us to overreact, manipulate, victimize or abuse others
Helps bring out our divine feminine
Promotes health of the respiratory tract, lungs, throat
Ideas For How To Use Your Tumbled Aquamarine Stone
Hold aquamarine over written complaints (whether receiving or sending) to improve how you react or communicate your point of view.
Carry it in your pocket when meeting your child's teacher about a complaint to help you find the criticism constructive.
Bring aquamarine with you when dealing with disputes to bring peace to the situation.
Have your child hold a tumbled aquamarine stone to reduce temper tantrums.
Carry it with you when you find yourself struggling instead of flowing.
Bring it with you to marriage counseling to open up loving lines of communication.
Put it in your child's pocket to help them do well on a test.
Place a bowl of aquamarine tumbled stones on the kitchen table to promote harmonious family interactions.
Meditate with aquamarine on your throat chakra to help you speak your truth.
Place it on your throat to heal a sore throat.
* Crystals and stones should not be used as a substitute for medical advice or treatment. Please read our full disclosure notice here.
Our Shipping & Return Policy
All items 70 lbs. and under ship within 48 hours. All other items will ship within 3 business days via pallet. We have years of experience with handling these items, and we ensure that your crystal arrives in mint condition. In cases of large items, please include a phone number so the freight company can schedule delivery.

All items are 100% insured and expertly packed in top quality shipping materials. Returns are accepted for practical reasons. Buyers are responsible for filing insurance claims.
International Shipping 
Please include a phone number for the duty entry process. All international shipping prices are calculated automatically when you place your order online, but you are welcome to contact us directly for more precise shipping quotes.
We are a top rated, award-winning mineral dealer offering fine mineral specimens for sale at sensible prices with outstanding customer service. We have a 99% satisfaction rate, we value our customers tremendously, and we take pride in providing an excellent experience.
Aquamarine FLOW LIKE WATER Calming Soothing GO WITH THE FLOW Healing Gemstone