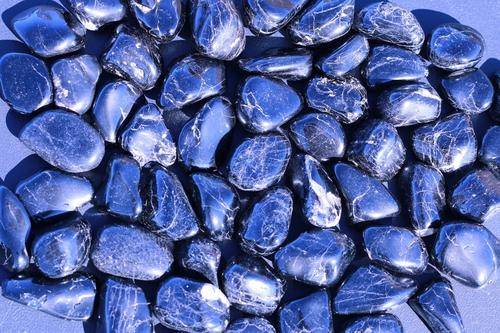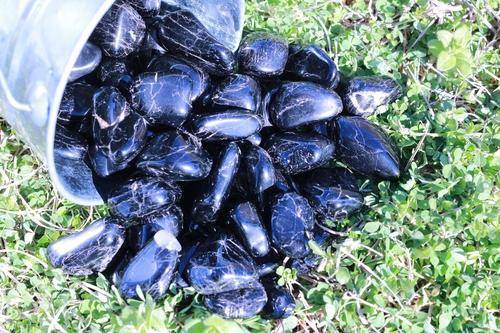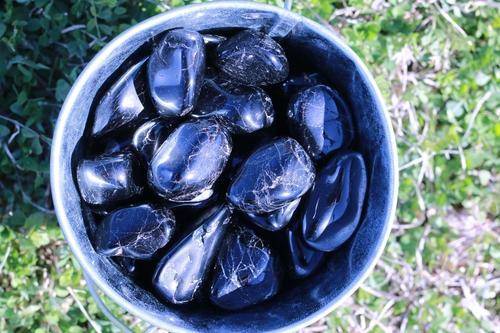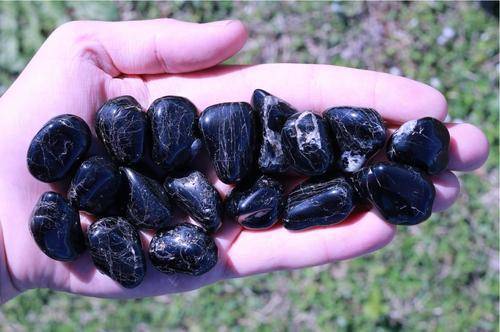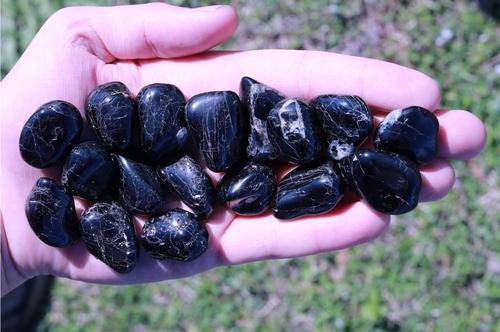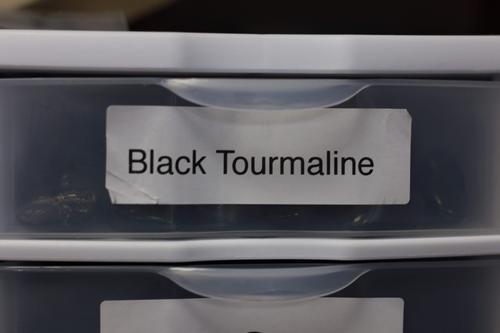 Black Tourmaline GRAND PROTECTOR Physical Mental Emotional Spiritual Healing Gemstone
Black Tourmaline Tumbled Stones
Black tourmaline is considered by many people to be the most powerful gemstone for protection. Its protective properties go beyond that of a typical crystal due to its ability to protect on the physical, mental, emotional, and spiritual levels all at once. Instead of just protecting against negative energies, it actually transforms those energies into positive ones.

This one-of-a-kind black tourmaline stone is 100% natural and originated from Brazil. It is a small, tumbled stone that can be carried in your pocket, held in your hand, placed on your root chakra during meditation, or displayed in a bowl full of your favorite tumbled stones.

Each piece will differ in size, weight, and appearance. The image shown is a representation of the quality of our black tourmaline crystals. One will be handpicked for you.
100% Natural One-Of-A-Kind Black Tourmaline With Letter of Authenticity
All Items Safely Packed & Insured
All Items Shipped Within 48 Hours of Cleared Payment
FREE SHIPPING for order over $35 USD!
About The Black Tourmaline Stone
In ancient times, magicians used black tourmaline when casting their spells to protect them from earth demons, and it is still used to this day for protection against dark forces.

Tourmaline becomes electrically charged when rubbed or heated. When this happens, it will attract paper or dust to one end and repel it from the other end. 17th century Dutch traders used charged tourmaline to remove ash from pipes.

Tourmaline is one of the more rare crystals, which is reflected in its typically higher prices, although black tourmaline is the most common variation of tourmaline. It is in the aluminum borosilicates family, and impurities containing iron, magnesium, or other metals determine the color of the tourmaline. Tourmaline's name comes from the ancient Sinhalese word, turmali, which means "mixed color precious stone."
Black Tourmaline & The Root Chakra
Balancing your chakras can improve consciousness, health, and one's relationship with the world. The black tourmaline stone resonates with the energy of the root chakra. By using black tourmaline to balance the root chakra, you will feel full of vitality, strength, and security. You'll be able to take on the world, and will feel more independent and able to lead.
The Feng Shui of Black Tourmaline
Feng Shui is the Chinese system of philosophical laws that govern spatial arrangement and the harmony and flow of energy within a room or building. Crystals work in powerful, yet subtle, ways to attract desired energy and strengthen your personal energy field. Placing black tourmaline in areas of the home where you rest or enjoy quiet reflection will improve the energy in those areas. You might also place it by the front door for added protection.
Black Tourmaline Benefits
Protects against negative entities and dark forces
Transforms negative thoughts into a positive attitude, regardless of the circumstances
Provides grounding energy that supports and aligns the chakras
Promotes self-confidence and personal power, especially in difficult situations and environments
Aims to reduce fears, paranoia, and panic attacks
Promotes physical energy and wellbeing by assisting the mind in functioning with more clarity and rational thought
Supports detoxification and the elimination of toxic heavy metals
Aims to neutralize pollution and electromagnetic smog in the environment
Aims to reduce pain, especially muscle pain and arthritis
Supports the function of the immune system, heart, adrenal glands, and colon
Ideas For How To Use Your Tumbled Black Tourmaline
Carry tumbled black tourmaline with you everywhere you go to eliminate unwanted energies from your aura and your experience.
Put your black tourmaline stone in your pocket when you are going to be around someone who normally sucks your energy dry.
Keep it with you to ward off psychic attack.
Place a bowl of black tourmaline on the kitchen table to reduce whining and complaining in the household.
Put black tourmaline near electronic devices to cut down on electromagnetic pollution.
It is said that tourmaline can be used as an aphrodisiac since it enhances the sense of smell.
Place black tourmaline along the spinal column to improve alignment
Keep black tourmaline in your pocket to assist you with overcoming compulsive behaviors or substance abuse.
Meditate with black tourmaline to balance the chakras. 

* Crystals and stones should not be used as a substitute for medical advice or treatment. Please read our full disclosure notice here.
Our Shipping & Return Policy
All items 70 lbs. and under ship within 48 hours. All other items will ship within 3 business days via pallet. We have years of experience with handling these items, and we ensure that your crystal arrives in mint condition. In cases of large items, please include a phone number so the freight company can schedule delivery.

All items are 100% insured and expertly packed in top quality shipping materials. Returns are accepted for practical reasons. Buyers are responsible for filing insurance claims.
International Shipping 
Please include a phone number for the duty entry process. All international shipping prices are calculated automatically when you place your order online, but you are welcome to contact us directly for more precise shipping quotes.
We are a top rated, award-winning mineral dealer offering fine mineral specimens for sale at sensible prices with outstanding customer service. We have a 99% satisfaction rate, we value our customers tremendously, and we take pride in providing an excellent experience.
Black Tourmaline GRAND PROTECTOR Physical Mental Emotional Spiritual Healing Gemstone