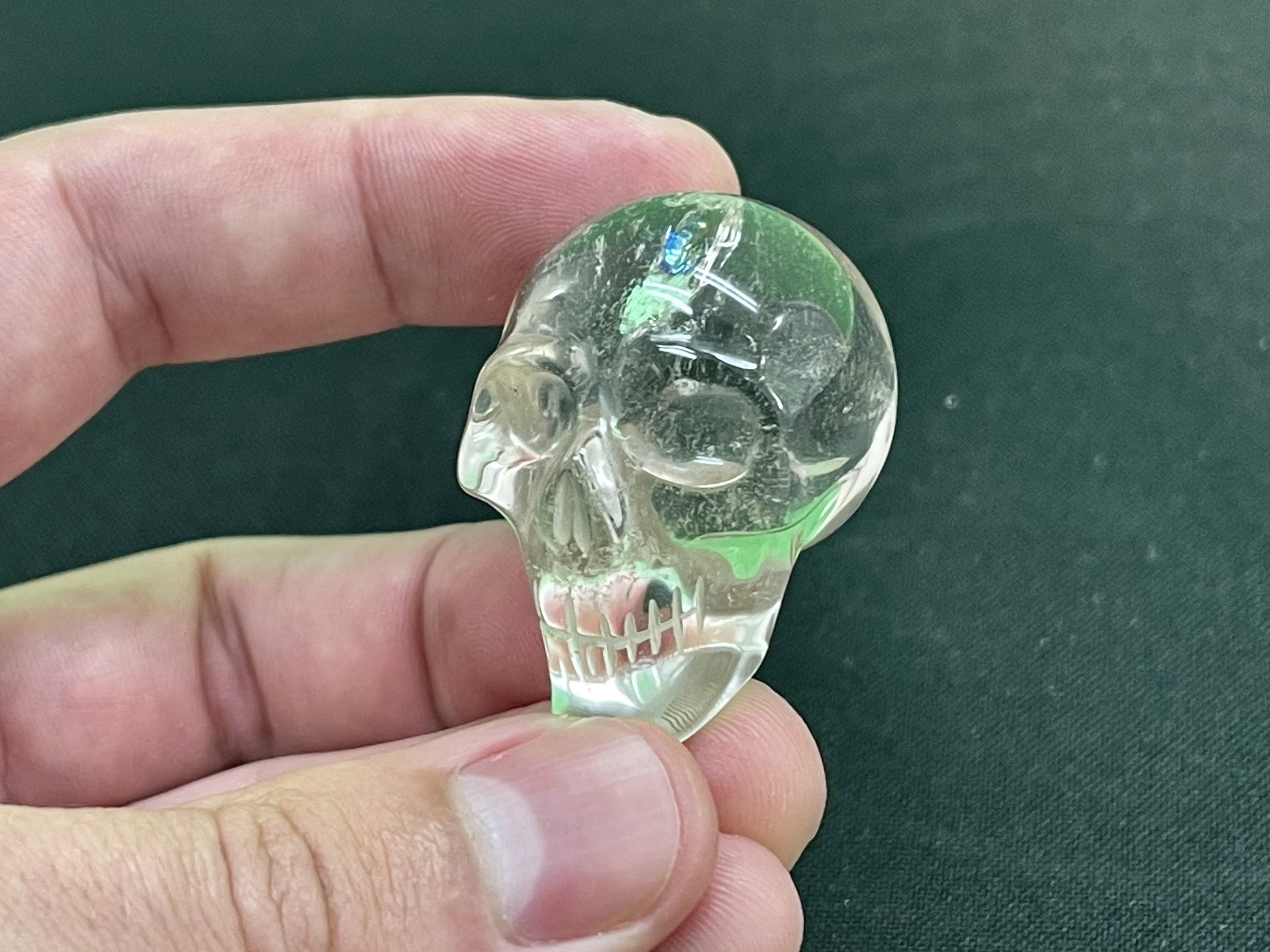 "BONESY" Crystal Skull High Quality Clear Quartz
$ 19.99
Regular price
$ 35.99
Subscription • Save
The Crystal Skulls for Sale are featured in this Video!
Check It Out:
High Quality Clear Quartz Skulls
Extra Small: 1.1 oz - 2.0 oz (≈1.5 - 2")

Small: 2.1 oz - 3.0 oz (≈1.5 - 2")
Medium: 3.1  oz - 4.0 oz (≈2 - 2.5")
Large: 4.1 oz - 5.0 oz (≈2 - 2.5")
Extra Large: 5.1 oz - 6.0 oz (≈2.5 - 3")
Origin: Brazil
Typically carved out of Quartz, Crystal Skulls expand our consciousness and bring in the wisdom of ancient civilizations, such as the Atlantians, Lemurians, Mayans, and Druids. Instead of having to do with death, Crystal Skulls are associated with the brain and consciousness, and they are a symbol of rebirth.
This one-of-a-kind Crystal Skull originated from Brazil and is made of Clear Quartz. It can be held in your hand, placed next to you during meditation, or displayed on your spiritual altar.
Each piece will differ in size, weight, and appearance. The image shown is a representation of the quality of our Crystal Skulls. One will be handpicked for you.
100% Natural One-Of-A-Kind Crystal Skull With Letter of Authenticity
All Items Safely Packed & Insured
All Items Shipped Within 48

 

Hours of Cleared Payment
FREE SHIPPING for order over $35 USD!
Crystal Skull Meaning
It is believed that a Crystal Skull chooses its caretaker, and those people are often referred to as Crystal Skull Guardians. While many are mass-produced, the best ones are hand-carved, providing each one with its own unique character and giving it a great energy.
The meaning of the skull will vary depending on the stone it is carved out of. It is associated with the brain and consciousness, as it is thought that Crystal Skulls hold within them great wisdom from ancient civilizations. 
They are also associated with the death of the ego and the rise of consciousness, and in that way, they are a symbol of rebirth.
Birthstone Month – Crystal Skulls are not a birthstone.
Clear Quartz & The Crown Chakra
Balancing your chakras can improve consciousness, health, and one's relationship with the world. Since Crystal skulls are associated with the brain and consciousness, they resonate with the energy of the crown chakra. They can help you connect to higher consciousness and awaken to universal knowledge.
This skull made of Clear Quartz, which also resonates with the energy of the crown chakra. The clear quartz stone helps us to understand our place in the universe and to act from that place. We become more in touch with higher consciousness and find ourselves vibrating at a higher frequency as a result. Clear quartz also helps us balance all of our chakras.

The Feng Shui of Clear Quartz
Feng Shui is the Chinese system of philosophical laws that govern spatial arrangement and the harmony and flow of energy within a room or building. Crystals work in powerful, yet subtle, ways to attract desired energy and strengthen your personal energy field.
Clear Quartz can be placed in a window where it can take in the sun's rays and disperse a prism of light and energy throughout the room. This uplifts the energy in the room and provides a feeling of warmth and healing energy.

Crystal Skulls Powers & Benefits
Expands consciousness
Activates the third eye and crown chakra
Makes it easier to access ancient information
Assists us in releasing the ego
Brings universal wisdom to its user
What Are Crystal Skulls Used For?
Meditate with a Crystal Skull to activate your third eye and crown chakra.
Keep a Crystal Skull near you while journaling to gain access to deeper wisdom.
Bring it with you during past life recall sessions.
Place a Crystal Skull on your spiritual altar to help you access higher consciousness.
Hold a Crystal Skull while visualizing your ego leaving your body.
* Crystals and stones should not be used as a substitute for medical advice or treatment. Please read our full disclosure notice here.
Our Shipping & Return Policy
Everything on our site ships free within the U.S. All items 70 lbs. and under ship within 48 hours. All other items will ship within 3 business days via pallet. We have years of experience with handling these items, and we ensure that your crystal arrives in mint condition. In cases of large items, please include a phone number so the freight company can schedule delivery.

All items are 100% insured and expertly packed in top quality shipping materials. Returns are accepted for practical reasons. Buyers are responsible for filing insurance claims.
International Shipping 
Please include a phone number for the duty entry process. All international shipping prices are calculated automatically when you place your order online, but you are welcome to contact us directly for more precise shipping quotes.
We are a top rated, award-winning mineral dealer offering fine mineral specimens for sale at sensible prices with outstanding customer service. We have a 99% satisfaction rate, we value our customers tremendously, and we take pride in providing an excellent experience.
"BONESY" Crystal Skull High Quality Clear Quartz
$ 19.99
Regular price
$ 35.99