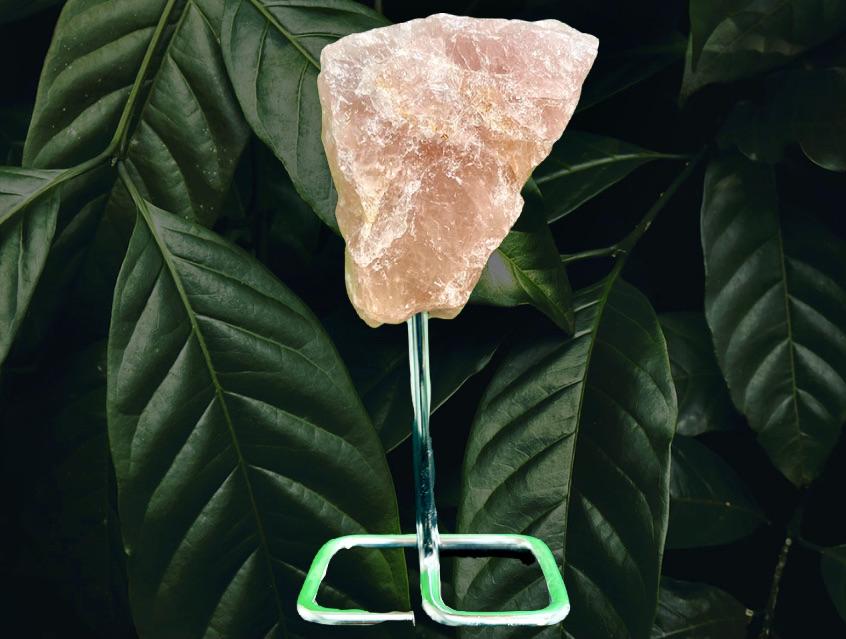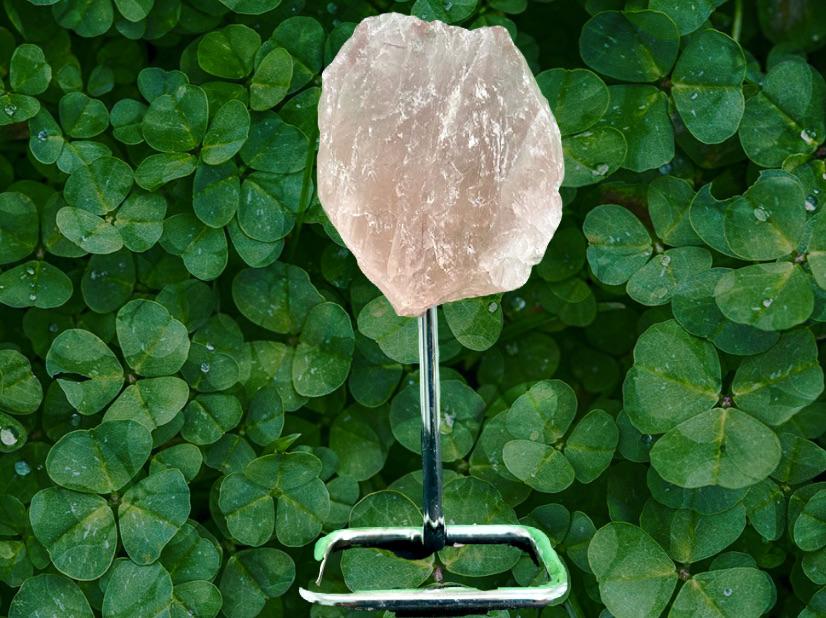 "LOLLIPOP-O-LOVIN" Rose Quartz w Custom Stand High Quality
$ 18.99
Regular price
$ 24.99
Subscription • Save
The Rose Quartz for Sale are the ones featured in the "Crystals For Beginners" Video:

Check it Out!
High Quality Rose Quartz w Custom Stand
Size of Specimen with stand: 8.0 oz  - 18.0 oz     ≈ 5.5 - 6.5"

 
Origin: Brazil
One of the most commonly used crystals for healing, rose quartz is known as the stone of the heart, aiding in areas of love and self-acceptance. Its beauty carries a soft, feminine energy and circulates unconditional love and a gentle nurturing energy throughout its user.

This one-of-a-kind rose quartz stone is 100% natural and originated from Brazil. It is a high quality beauty that can be carried in your pocket, held in your hand or placed on your heart during meditation, or displayed in a bowl full of your favorite tumbled stones.

Each piece will differ in size, weight, and appearance. The image shown is a representation of the quality of our rose quartz crystals. One will be handpicked for you.

100% Natural One-Of-A-Kind Rose Quartz With Letter of Authenticity
All Items Safely Packed & Insured
All Items Shipped Within 48 Hours of Cleared Payment
FREE SHIPPING for orders over $35 USD!
About the Rose Quartz Stone
Rose quartz stones are
pink crystals
that are milky, yet translucent, minerals and they are often found in the core of granite. Historically, rose quartz has been honored by the Tibetan and Asian cultures, and continues to be one of the most carved stones in Asia.
Rose quartz stones are formed under intense pressure and heat over millions of years. As magma deep in the earth cools, silicon mixes with oxygen, and the quartz crystal is formed. When titanium is present during the cooling process, it creates the pink color, and rose quartz is the result.
Birthstone Month
– January (non-traditional)
Rose Quartz & The Heart Chakra
Balancing your chakras can improve consciousness, health, and one's relationship with the world. The rose quartz resonates with the energy of the heart chakra. Holding a rose quartz stone or sitting near one while meditating can raise your consciousness, which in turn brings about more forgiveness and a greater ability to connect with others and yourself in a more compassionate way. It helps negative thoughts, fears, and resentments to be detoxed from the body, which brings about deeper levels of trust in oneself and others. By using the rose quartz to connect more deeply with the heart chakra, you can bring about more acceptance, love, faith, hope, and compassion into your life.
The Feng Shui of Rose Quartz
Feng Shui is the Chinese system of philosophical laws that govern spatial arrangement and the harmony and flow of energy within a room or building. Crystals work in powerful, yet subtle, ways to attract desired energy and strengthen your personal energy field. Displaying rose quartz in the center, or heart, of the home and in the bedroom is vital for loving relationships and a joyous marriage.
Rose Quartz Benefits
Attracts love into your life
Encourages all types of love (self-love, family love, platonic love, and romantic love)
Brings unconditional love into our lives by balancing emotions that result in empathy and compassion
Improves feelings of self-acceptance, gratitude, trust, and confidence
Helps eliminate paranoia, self-pity, and indecisiveness in everyday actions
Reduces feelings of possessiveness and controlling behavior
Detoxes negative thoughts, fears, and resentments from the body
Promotes the functioning of the heart and circulatory system
Supports the female reproductive system and childbirth
Ideas For How To Use Your Rose Quartz Stone
Hold your rose quartz stone in your hand as you meditate to bring more love, compassion, and acceptance into your life. 
Place the rose quartz on your heart chakra to bring about peaceful feelings before falling asleep.
Carry rose quartz in your pocket to develop closer bonds with the people you come in contact with. 
Place a rose quartz crystal on your pregnant belly to help you bond with your baby.
Place your baby's milk inside a ring of rose quartz crystals for several minutes before feeding your baby to soothe colic.
Place a rose quartz stone next to your bed to improve trust and intimacy with your partner. 
Place a rose quartz stone next to your child's bed to help them sleep better.
Hold rose quartz in your hand to relieve feelings of grief. 
* Crystals and stones should not be used as a substitute for medical advice or treatment. Please read our full disclosure notice here.
Our Shipping & Return Policy
All items 70 lbs. and under ship within 48 hours. All other items will ship within 3 business days via pallet. We have years of experience with handling these items, and we ensure that your crystal arrives in mint condition. In cases of large items, please include a phone number so the freight company can schedule delivery.

All items are 100% insured and expertly packed in top quality shipping materials. Returns are accepted for practical reasons. Buyers are responsible for filing insurance claims.
International Shipping 
Please include a phone number for the duty entry process. All international shipping prices are calculated automatically when you place your order online, but you are welcome to contact us directly for more precise shipping quotes.
We are a top rated, award-winning mineral dealer offering fine mineral specimens for sale at sensible prices with outstanding customer service. We have a 99% satisfaction rate, we value our customers tremendously, and we take pride in providing an excellent experience.
"LOLLIPOP-O-LOVIN" Rose Quartz w Custom Stand High Quality
$ 18.99
Regular price
$ 24.99