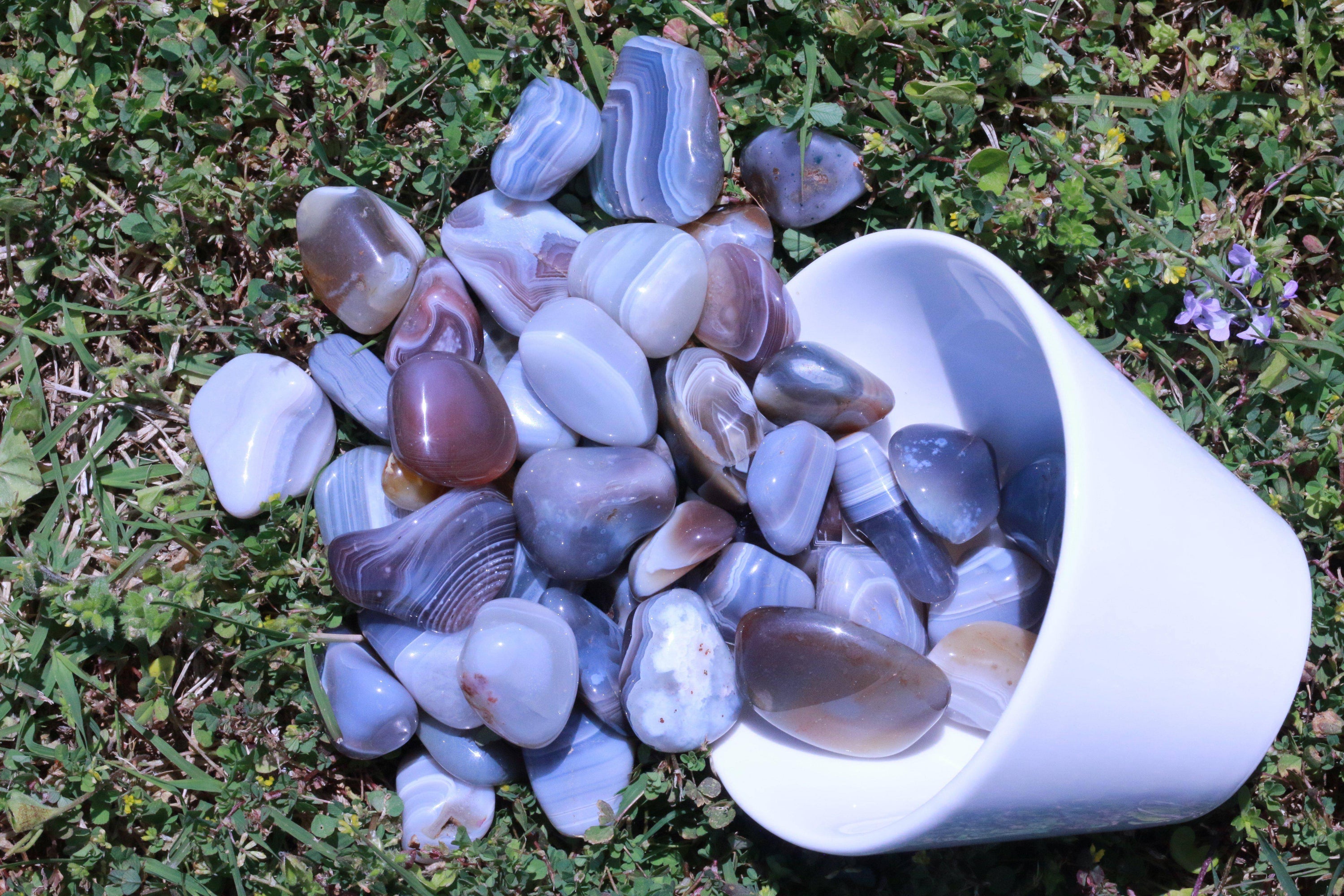 Tumbled Grey Botswana Agate Stone "Letting Go and Healing"
Grey Botswana Agate Stone
Grey Botswana Agate produces a gentle, slow frequency that is calming, stabilizing, and comforting. It is a great stone to use if you want to get centered or are lacking a sense of security in your life. You are also likely to notice that it helps you find solutions to your problems and release your fears through a newfound inner strength.
This one-of-a-kind Grey Botswana Agate stone is 100% natural and originated from Brazil. It is a small, tumbled stone that can be carried in your pocket, held in your hand, placed on your root chakra during meditation, or displayed in a bowl full of your favorite tumbled stones.
Each piece will differ in size, weight, and appearance. The image shown is a representation of the quality of our Grey Botswana Agate stones. One will be handpicked for you.
100% Natural One-Of-A-Kind Grey Botswana Agate With Letter of Authenticity
All Items Safely Packed & Insured
All Items Shipped Within 24 Hours of Cleared Payment
FREE SHIPPING!
Grey Botswana Agate Properties
Grey Botswana Agate is a type of banded Chalcedony that is in the Quartz family. It is primarily grey and can have areas of pink or brown. When the bands appear in an eye formation, it is considered to be extremely lucky
This stone was named after the location where it is mined in Africa. It has been used in African fertility ceremonies to assist with conception and the growth of healthy babies. 
Zodiac Birthstone – Gemini
Natural Birthstone – Mid-Autumn (October 22 - November 20)
Grey Botswana Agate Chakra
Balancing your chakras can improve consciousness, health, and one's relationship with the world. The Grey Botswana Agate resonates with the energy of the root chakra, which is our connection to mother earth, and the powerhouse of our strength, stability, stamina, and security. Holding a Grey Botswana Agate stone or placing one on the root chakra during meditation will promote feelings of power, independence, and leadership. As the foundation of physical and spiritual energy, engaging the root chakra with the help of your Grey Botswana Agate crystal will help you feel centered, balanced, and able to move forward.
The Feng Shui of Grey Botswana Agate
Feng Shui is the Chinese system of philosophical laws that govern spatial arrangement and the harmony and flow of energy within a room or building. Crystals work in powerful, yet subtle, ways to attract desired energy and strengthen your personal energy field. Place Grey Botswana Agate in the Northwest or West areas of your home or room. It will help to bestow blessings upon you and inspire creativity and childlike play.
Grey Botswana Agate Meaning & Benefits
Eases feelings of loneliness and grief
Induces a centered calm upon its user
Helps us see solutions instead of focusing on the problem
Balances all levels of the self (physical, mental, emotional, spiritual)
Protects against negative energy and spirits
Promotes inner strength and stability
Inspires a sense of confidence
Reduces the need to be obsessive
Helps us overcome our fears
Encourages us to explore the unknown
Assists with pregnancy and conception
Has been said to ease depression and anxiety disorders
Supports the immune system
Ideas For How To Use Your Tumbled Grey Botswana Agate Stone
Meditate with your Grey Botswana Agate stone to feel centered and help you fall into a meditative state.
Hold it in your hand when you need a little extra luck.
Place Grey Botswana Agate in your child's pocket to help them find the strength to overcome teasing and peer pressure.
Drink a Grey Botswana Agate elixir each morning when you are trying to quit smoking.
Bring it with you in the car to help protect you from accidents.
Place a cold Grey Botswana Agate stone on your forehead to help reduce a fever.
* Crystals and stones should not be used as a substitute for medical advice or treatment. Please read our full disclosure notice here.
Our Shipping & Return Policy
Everything on our site ships free within the U.S. All items 70 lbs. and under ship within 24 hours. All other items will ship within 3 business days via pallet. We have years of experience with handling these items, and we ensure that your crystal arrives in mint condition. In cases of large items, please include a phone number so the freight company can schedule delivery.

All items are 100% insured and expertly packed in top quality shipping materials. Returns are accepted for practical reasons. Buyers are responsible for filing insurance claims.
International Shipping 
Please include a phone number for the duty entry process. All international shipping prices are calculated automatically when you place your order online, but you are welcome to contact us directly for more precise shipping quotes.
We are a top rated, award-winning mineral dealer offering fine mineral specimens for sale at sensible prices with outstanding customer service. We have a 99% satisfaction rate, we value our customers tremendously, and we take pride in providing an excellent experience.
Tumbled Grey Botswana Agate Stone "Letting Go and Healing"