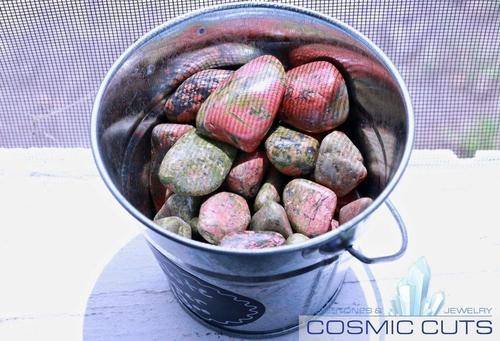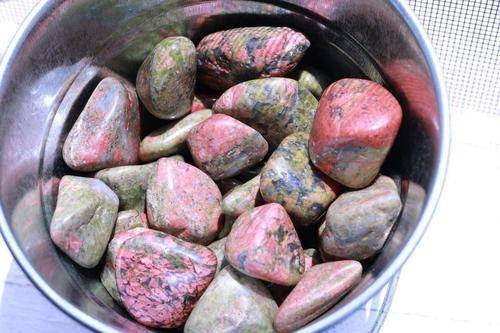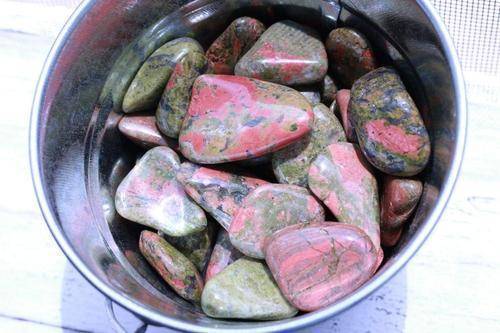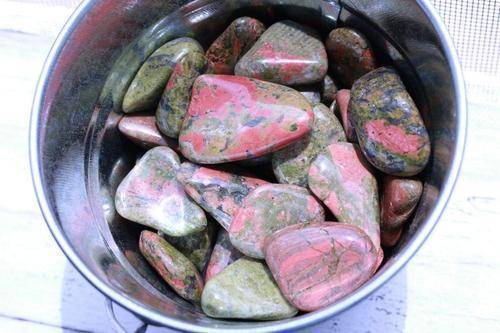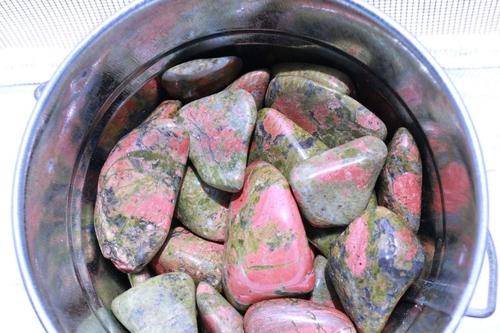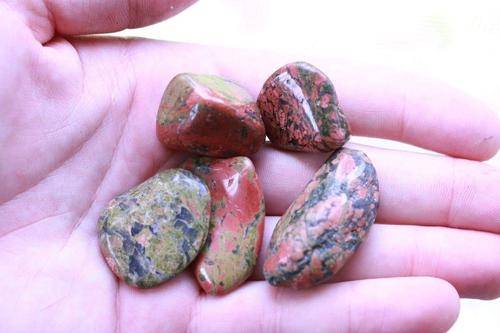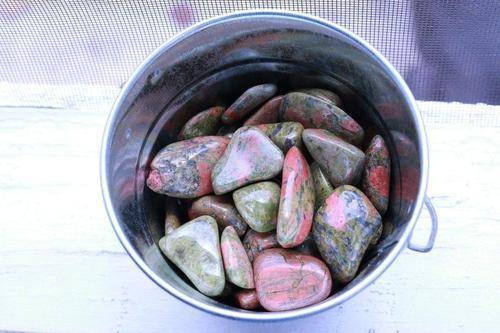 Unakite Jasper Healing Crystal Tumbled Gemstone Superb Quality
Unakite Jasper Stone
Unakite Jasper is a beautiful blend of green and pink, which are the colors of the heart chakra. As such, it is associated with love, compassion, kindness, and emotional balance. It is an uplifting stone that brings the gentle release of emotions. It is useful for all matters of the heart, especially when it comes to relationships.
This one-of-a-kind Unakite Jasper stone is 100% natural and originated from Brazil. It is a small, tumbled stone that can be carried in your pocket, held in your hand, placed on your heart chakra during meditation, or displayed in a bowl full of your favorite tumbled stones.
Each piece will differ in size, weight, and appearance. The image shown is a representation of the quality of our Unakite Jasper stones. One will be handpicked for you.
100% Natural One-Of-A-Kind Unakite Jasper With Letter of Authenticity
All Items Safely Packed & Insured
All Items Shipped Within 48 Hours of Cleared Payment
FREE SHIPPING for order over $35 USD!
Unakite Jasper Properties
Otherwise known as Epidotized Granite and Grandodiorite, Unakite Jasper ranges in color from pink, to light red and peach mixed with mossy green. It is a combination of Red Jasper, Pink Feldspar, and Green Epidote; therefore, it symbolizes integration and coming together.
This stone was named after the Unaka Mountains in Tennessee and North Carolina, the area where it was first discovered. It is now also found around the Great Lakes, and in Switzerland and Zimbabwe.
Natural Birthstone – Heart of Spring (April 20 - May 20)
Unakite Jasper Chakra
Balancing your chakras can improve consciousness, health, and one's relationship with the world. The Unakite Jasper stone resonates with the energy of the heart chakra. Placing your Unakite Jasper stone on the heart chakra will help you bring your true self into your environment so you can interact with others in an open and intimate way. Balancing this chakra brings balance to relationships, emotional stability to our interactions with the outside world, and acceptance and understanding of ourselves and others.
The Feng Shui of Unakite Jasper
Feng Shui is the Chinese system of philosophical laws that govern spatial arrangement and the harmony and flow of energy within a room or building. Crystals work in powerful, yet subtle, ways to attract desired energy and strengthen your personal energy field. Place Unakite Jasper stones in your eating areas, children's rooms, or in areas where you work on new projects for extra support. Place it in the East and Southeast areas of your home or room to enhance your family life, health, and wealth.
Unakite Jasper Benefits
Helps to improve all manners of the heart
Promotes healthy and harmonious relationships and partnerships
Assists with business relationships, especially those that are with family
Releases deep-seated emotional traumas
Helps heal injuries and illness and is particularly nurturing during those times
Provides feelings of strength and vitality in a gentle manner
Helps those in the following industries: marriage counseling, divorce attorneys, fashion design, beauty, aromatherapy
Detoxifies the body of toxins and electromagnetic pollution
Supports the heart, lungs, and reproductive system 
Unakite Jasper Uses
Keep it with you when you are trying to overcome an addiction.
Place Unakite Jasper on your heart during meditation to help open the heart chakra.
Put Unakite Jasper under your pillow to help you conceive a child.
Rest with it on your pregnant belly to start a close bond with your baby.
Hold a Unakite Jasper stone in your hand during labor.
Keep a Unakite Jasper stone in your pocket when you need an extra boost of patience and persistence.
Place it in an area where you spend a lot of time to reduce unhealthy thoughts and bad habits.
Place it in your child's pocket to help them work through their emotions or to deal with grief.
Bring Unakite Jasper with you when you are feeling overwhelmed, disappointed, or lost.
* Crystals and stones should not be used as a substitute for medical advice or treatment. Please read our full disclosure notice here. (https://cosmiccuts.com/pages/disclosure-notice)
Our Shipping & Return Policy
All items 70 lbs and under ship within 48 hours. All other items will ship within 3 business days via pallet. We have years of experience with handling these items, and we ensure that your crystal arrives in mint condition. In cases of large items, please include a phone number so the freight company can schedule delivery.
All items are 100% insured and expertly packed in top quality shipping materials. Returns are accepted for practical reasons. Buyers are responsible for filing insurance claims.
International Shipping  
We have an approximate flat-rate fee that covers an estimated 80% of international customers. We hold the right to request more shipping and/or cancel the order if shipping grossly exceeds our flat rate price. Please also include a phone number for duty entry process.  
We are a top rated, award-winning mineral dealer offering fine mineral specimens for sale at sensible prices with outstanding customer service. We have a 99% satisfaction rate, we value our customers tremendously, and we take pride in providing an excellent experience.
Unakite Jasper Healing Crystal Tumbled Gemstone Superb Quality