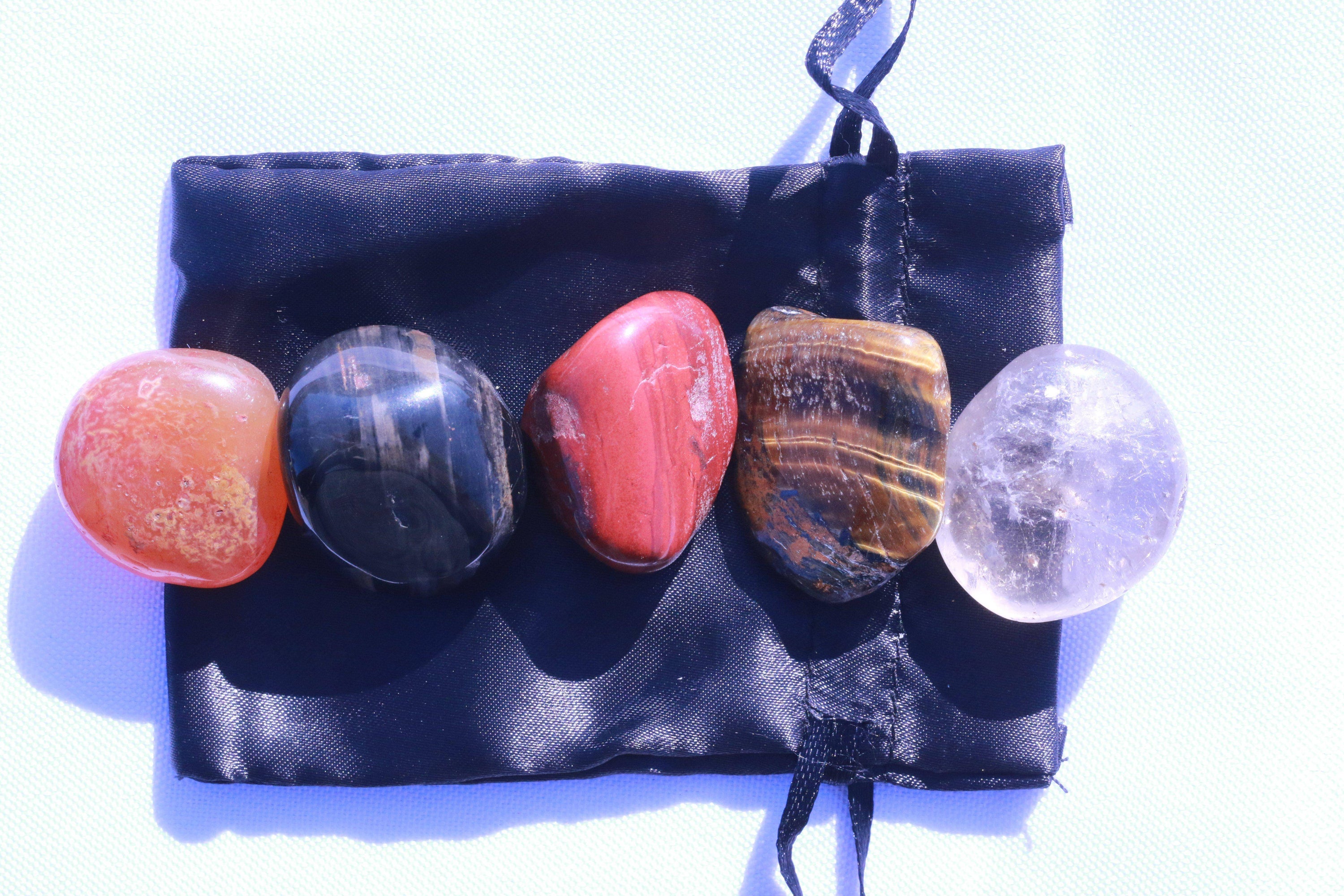 "Invigorating Energy" Healing Gemstone Collection Bag
$ 18.50
Regular price
$ 20.00
Subscription • Save
Crystals for Invigorating Energy
Do you sometimes feel a lack of energy?  Do you sometimes feel you could use an energetic boost?
With Red Jasper, Carnelian, Tiger's Eye, Citrine, Black Onyx, this collection will energize your mind, body, and spirit. Unleash the power of these gemstones to help actualize your potential.
These gemstones will unleash the person inside that you know you can be and help you get out of bed with more motivation, purpose, and vigor. Free yourself from the restraints of every day stress and become the person you were born to be.
These powerhouse crystals have been hand selected to fill you with your own inner purpose, let nothing stand in your way.
"Invigorating Energy" Healing Gemstone Collection Set
For this "Invigorating Energy" Healing Gemstone collection, we have hand selected 5 healing stones, Red Jasper, Carnelian, Tiger's Eye, Citrine, and Black Onyx. The set includes one of each of these along with a bag. 
Red Jasper
1st Crystal – Endurance – Mastery - Physical Strength
Red Jasper is known as the stone of endurance, providing physical strength and vitality as well as a focused and determined mind. It offers physical and spiritual protection, and promotes justice. Red jasper's steady and grounding energy leads to self-mastery i all endeavors. This gemstone relaxes the emotions and offers stability and inner strength. It assists us in doing things we don't want to do and activates the kundalini energy within. It promotes passion, both in what inspires us and in sex. Red Jasper sends negative energy back to its source and reduces stress and anxiety. 
Carnelian
2nd Crystal – Motivation – Passion – Rejuvenation
The Carnelian stone is a captivating gemstone that brings warmth, passion, and energy to its user. Known as the stone of motivation, it provides an extremely empowering and positive force that sets good things in motion and rejuvenates the mind, body, and spirit. This gemstone enhances motivation and protects against theft, fire, storms, accidents, and acts of god. It promotes good choices in life and protects against internal and external anger, abuse, and resentment so you can spend your energy more efficiently and in ways that will benefit you. It rejuvenates our life force by promoting good blood circulation and boosts metabolism.
Tiger's Eye
3rd Crystal – Courage – Perseverance – Vitality
Known as the "Stone of Courage," Tiger's Eye improves willpower, emotional strength, and perseverance. It boosts physical strength and vitality. Improves our ability to manifest great changes in our lives. Known as the "All-Seeing, All-Knowing Eye," Tiger's Eye improves insight and intuition and promotes insight and abundance in your life. It integrates your spirituality with your physical life and brings balance and unity to extremes and opposites and helps us make practical choices that are compassionate and inspired by spirit. It attracts prosperity and inspires you to make choices that benefit your own health, wealth, and happiness.
Citrine
4th Crystal – Inspiration – High Energy – Energizing
Citrine carries the power of the sun, bringing us radiance, care-free feelings, and the ability to go with the flow. Transmutes negative energy, thoughts, and feelings into positive ones. Citrine increases physical energy and stamina. It promotes feelings of inspiration, motivation, creativity, and high energy. It transmutes negative energy, thoughts, and feelings into positivity. It promotes the work of the solar plexus to boost confidence and increases physical energy and stamina. It brings warmth and joy into your life and helps us attracts the people and situations we desire. It helps make our dreams come true and brings positive energy into all situations and it helps us see the good in any situation.
Black Onyx
5th Crystal – Self-Confidence – Clarity – Personal Power
Improves physical energy and wellbeing by allowing the mind to function with more clarity and rational thought. Black Onyx protects against negative entities and dark forces. Promotes self-confidence and personal power, especially in difficult situations and environments. Also provides grounding energy that supports and aligns the chakras. Black Onyx carries the energy of dusk, when darkness gives way to the light. It shows us the way personal strength by helping us make new perceptions and insights about ourselves that transform us from the inside out. It assists us in overcoming our fears and overcoming stress.
How to Meditate With Invigorating Energy Crystals
These crystals help deepen and strengthen the results of meditation and chakra opening. Each crystal has a different energy, and some crystals work to enhance the energy of the chakras.
When you meditate with crystals that share the energy of the chakras (chakra crystals), your meditation practice and your results will be more powerful. You might choose to place the chakra crystals in your palm as you meditate, or you can place them on the body in the area of each chakra while lying down (the clear quartz will be placed above your head).
As you meditate, visualize the chakra crystals pouring their energy into your chakras one at a time.
Our Shipping & Return Policy
All items 70 lbs. and under ship within 48 hours. All other items will ship within 3 business days via pallet. We have years of experience with handling these items, and we ensure that your crystal arrives in mint condition. In cases of large items, please include a phone number so the freight company can schedule delivery.

All items are 100% insured and expertly packed in top quality shipping materials. Returns are accepted for practical reasons. Buyers are responsible for filing insurance claims.
International Shipping 
Please include a phone number for the duty entry process. All international shipping prices are calculated automatically when you place your order online, but you are welcome to contact us directly for more precise shipping quotes.
We are a top rated, award-winning mineral dealer offering fine mineral specimens for sale at sensible prices with outstanding customer service. We have a 99% satisfaction rate, we value our customers tremendously, and we take pride in providing an excellent experience.
"Invigorating Energy" Healing Gemstone Collection Bag
$ 18.50
Regular price
$ 20.00