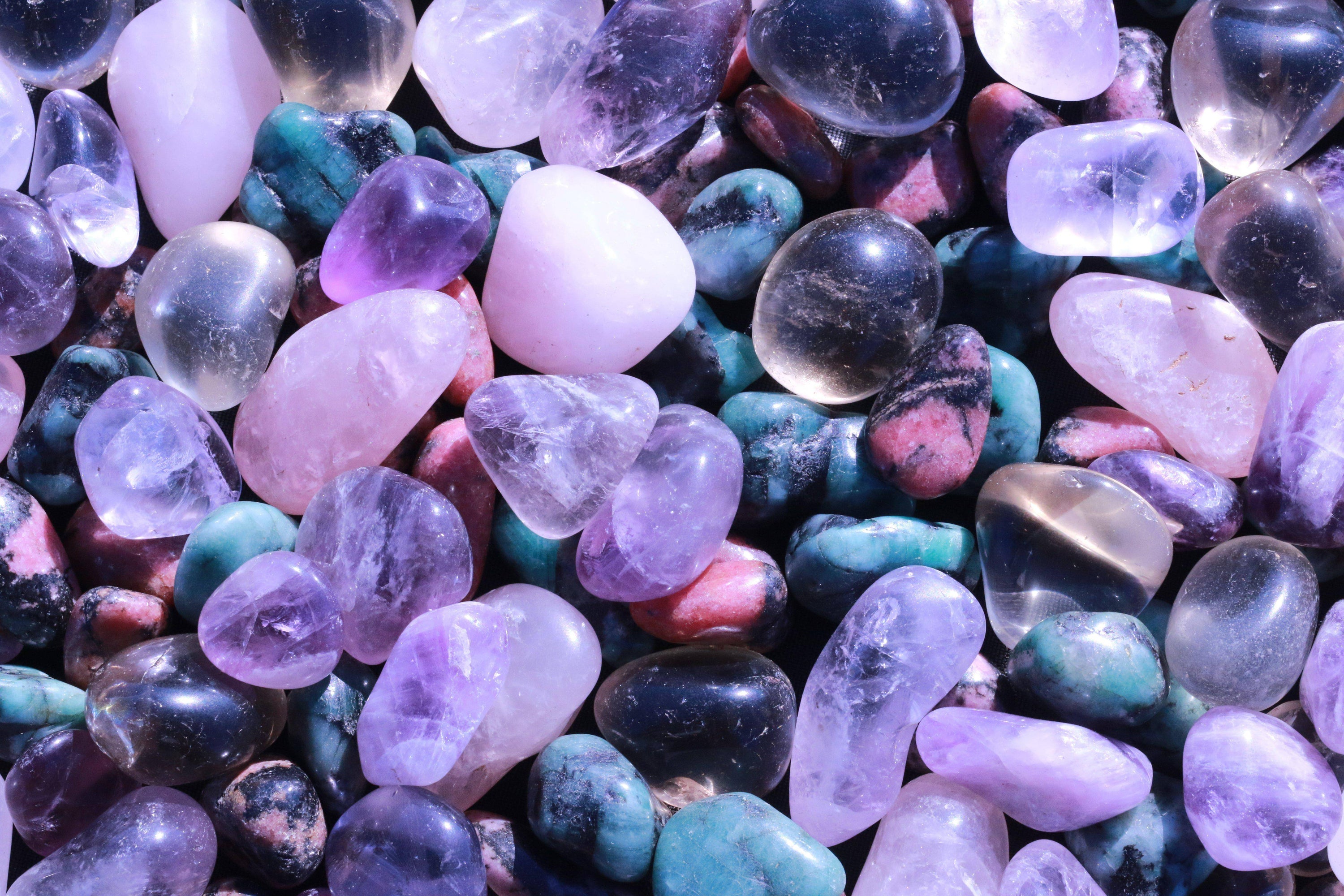 "Love" Healing Gemstone Collection Bag
$ 18.50
Regular price
$ 20.00
Subscription • Save
Crystals for Love
Love is all you need! Self-love, family love, platonic love, and romantic love, this collection of healing gemstones will help you attract the love you need into your life.
Compassion, devotedness, empathy, understanding, generosity and passion, these gemstones will help you infuse with love and happiness.
"Love" Healing Gemstone Collection Set
For this "Love" Healing Gemstone collection, we have hand selected 5 healing stones, Amethyst, Citrine, Rose Quartz, Rhodonite, and Emerald. The set includes one of each of these along with a bag. 
Rose Quartz
1st Crystal – Universal Love – Self-Acceptance - Unconditional Love
One of the most commonly used crystals for healing, Rose Quartz is known as the "Stone of the Heart," aiding in areas of love and self-acceptance. Its beauty carries a soft, feminine energy and circulates unconditional love and a gentle nurturing energy throughout its user.
Emerald
2nd Crystal – Patience – Compassion – Gratitude
Emerald encourages abundance in our lives through a trusting and grateful heart. It provides relief of heartache and the ability to overcome negative patterns. It is soothing to the emotions, yet livening to thoughts and insights. It promotes patience, compassion, and, of course, unconditional love.
Amethyst
3rd Crystal – Peace – Happiness – Clearing
Amethyst provides a sense of calm and wellbeing. It counteracts negative energies in the environment and deepens understanding of oneself and others. It also protects you spiritually from negativity.
Rhodonite
4th Crystal – Generosity – Cooperation – Truth
Rhodonite heals emotional wounds and empowers us to reach our full potential. Inspires cooperation, generosity, forgiveness, and love. It promotes forgiveness and compromise. It helps us discover and live our unique purpose, one that is aligned with universal truth and beneficial to all.  
Citrine
5th Crystal – Dream Inducing – Protection – Imagination
Natural Citrine is the stone to use when you want to improve your motivation and manifest your desires. It brings the energy of the sun into our lives, and promotes vitality, joy, and warmth. Its inspiring energy provides us with fresh beginnings and a love for life itself.
How to Meditate With Love Crystals
These crystals help deepen and strengthen the results of meditation and chakra opening. Each crystal has a different energy, and some crystals work to enhance the energy of the chakras.
When you meditate with crystals that share the energy of the chakras (chakra crystals), your meditation practice and your results will be more powerful. You might choose to place the chakra crystals in your palm as you meditate, or you can place them on the body in the area of each chakra while lying down (the clear quartz will be placed above your head).
As you meditate, visualize the chakra crystals pouring their energy into your chakras one at a time.
Our Shipping & Return Policy
All items 70 lbs. and under ship within 48 hours. All other items will ship within 3 business days via pallet. We have years of experience with handling these items, and we ensure that your crystal arrives in mint condition. In cases of large items, please include a phone number so the freight company can schedule delivery.

All items are 100% insured and expertly packed in top quality shipping materials. Returns are accepted for practical reasons. Buyers are responsible for filing insurance claims.
International Shipping 
Please include a phone number for the duty entry process. All international shipping prices are calculated automatically when you place your order online, but you are welcome to contact us directly for more precise shipping quotes.
We are a top rated, award-winning mineral dealer offering fine mineral specimens for sale at sensible prices with outstanding customer service. We have a 99% satisfaction rate, we value our customers tremendously, and we take pride in providing an excellent experience.
"Love" Healing Gemstone Collection Bag
$ 18.50
Regular price
$ 20.00