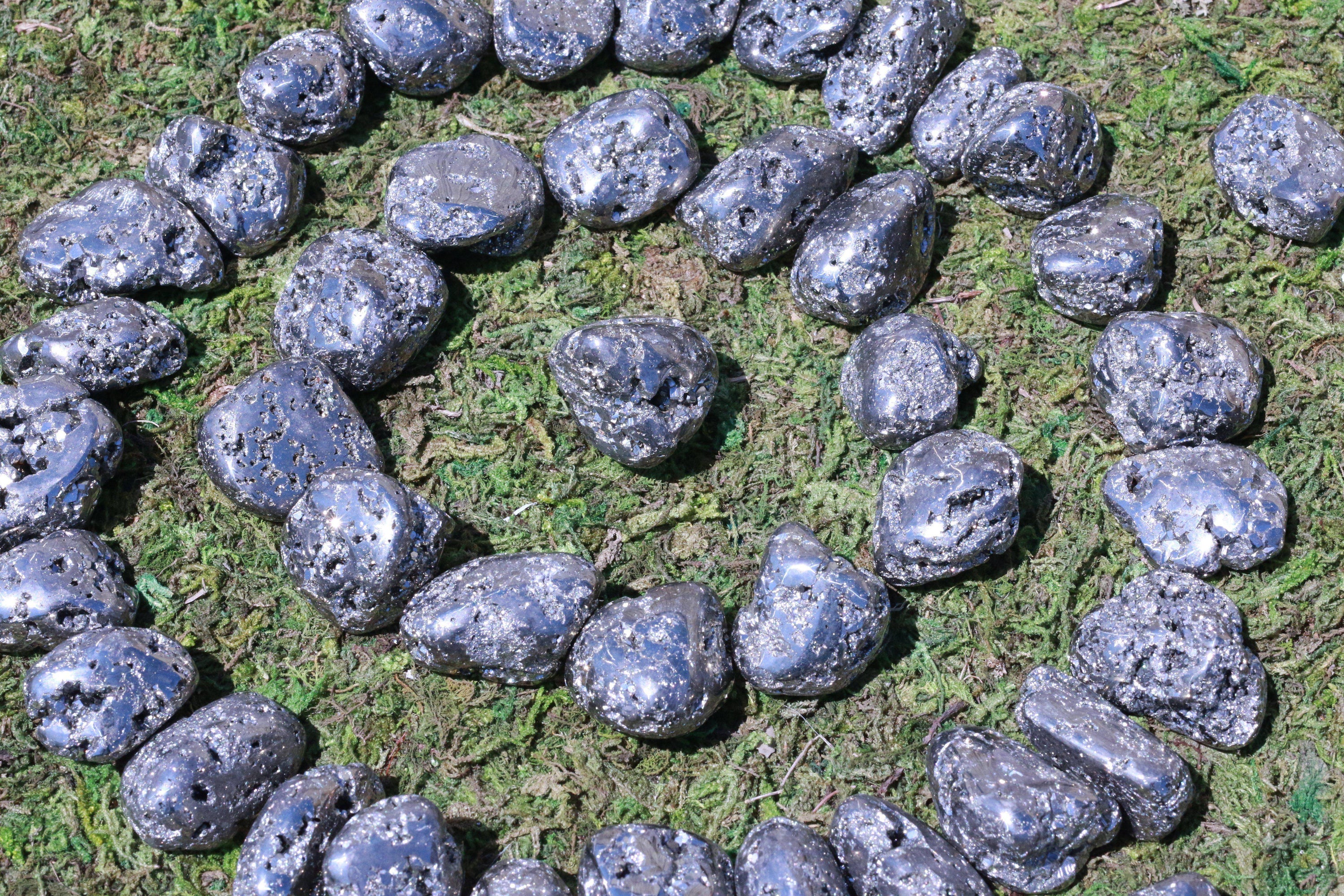 Pyrite Stones "Premium Fool's Gold"
$ 4.99
Regular price
$ 7.99
Subscription • Save
Pyrite Stones

Known as "The Stone of Wealth," Pyrite is one of the most grounding stones, providing us stability and a deep connection to the earth. It is highly protective and brings good luck and fortune. It's a high vibrational stone that is a welcome addition to any crystal collection.
This one-of-a-kind Pyrite stone is 100% natural and originated from Brazil. It is a small, tumbled stone that can be carried in your pocket, held in your hand, placed on your root chakra during meditation, or displayed in a bowl full of your favorite tumbled stones.

Each piece will differ in size, weight, and appearance. The image shown is a representation of the quality of our Pyrite mineral. One will be handpicked for you.
100% Natural One-Of-A-Kind Pyrite With Letter of Authenticity
All Items Safely Packed & Insured
All Items Shipped Within 24 Hours of Cleared Payment
FREE SHIPPING!
Pyrite Properties
Pyrite is also referred to as Fool's Gold. It is composed of iron sulfide, and it forms in numerous different formations (stalactites, masses, globes, striated cubes, twelve-sided pentagonal dodecahedral, flat radial disks, and grains). It has a pale, metallic gold appearance.

Its name comes from the Greek word "pyr" or "pyros," which means "fire," due to its ability to create sparks when it is struck against itself or a hard surface.
Natural Birthstone – Midsummer (July 22 - August 21)

Pyrite & The Solar Plexus & Sacral Chakra
Balancing your chakras can improve consciousness, health, and one's relationship with the world. The Pyrite stone resonates with the energy of the solar plexus and the sacral chakra. As a solar plexus stone, Pyrite can help you fight infections, overcome your fears, and act with authenticity. Being a sacral chakra stone, it can also help you tune into your intuition, experience pleasure, and be more independent.


The Feng Shui of Pyrite
Feng Shui is the Chinese system of philosophical laws that govern spatial arrangement and the harmony and flow of energy within a room or building. Crystals work in powerful, yet subtle, ways to attract desired energy and strengthen your personal energy field. Placing Pyrite in the Northeast and Southwest areas of the home or room can help you feel safe and secure, while placing it in the South area can help you boost your relationship status, confidence, and fire.
Pyrite Stone Benefits
Helps us overcome fears and take action
Supports the manifestation of our desires
Promotes feelings of vitality
Brings us new ideas
Boosts our confidence
Provides the tenacity to complete things
Turns the aura into a shield against negative energy
Protects agains toxins in the environment
Protects against emotional and psychic attack
Deflects danger and harm away from us
Helps us accomplish the impossible
Supports mental clarity, focus, and memory
Sparks creativity, especially in relation to the universe and nature

Useful for getting to the root of a physical issue and for supporting healing even when nothing else has worked

Provides protection for caregivers
Increases oxygen to the blood 
Pyrite Uses
Keep it with you when you need to alter the balance of power in a relationship.
Place it in your pocket to energize you and overcome fatigue.
Place it in your child's pocket to help them persevere with their schoolwork or a task.
Hold it during meditation for a boost of vitality.
Place it near electronics to lower EMFs.
Keep your Pyrite stone in your pocket when you are meeting your boss about a possible promotion or raise or during a job interview.
Hold your Pyrite stone on your pulse points (inside wrist or on your throat) to get a jolt of protective energy and self-confidence.
Use Pyrite, which is an earth stone, with stones from the other elements, such as

 

Aquamarine

 

(water),

 

Citrine

 

(fire), and

 

Amethyst

 

(air) to bring balance to your life.
Since Pyrite neutralizes negativity, combine it with a stone that enhances positive energy like

 

Ametrine

 

so that the negativity will be replaced by positive energy. 
* Crystals and stones should not be used as a substitute for medical advice or treatment. Please read our full disclosure notice here.
Our Shipping & Return Policy
Everything on our site ships free within the U.S. All items 70 lbs. and under ship within 24 hours. All other items will ship within 3 business days via pallet. We have years of experience with handling these items, and we ensure that your crystal arrives in mint condition. In cases of large items, please include a phone number so the freight company can schedule delivery.

All items are 100% insured and expertly packed in top quality shipping materials. Returns are accepted for practical reasons. Buyers are responsible for filing insurance claims.
International Shipping 
Please include a phone number for the duty entry process. All international shipping prices are calculated automatically when you place your order online, but you are welcome to contact us directly for more precise shipping quotes.
We are a top rated, award-winning mineral dealer offering fine mineral specimens for sale at sensible prices with outstanding customer service. We have a 99% satisfaction rate, we value our customers tremendously, and we take pride in providing an excellent experience.
Pyrite Stones "Premium Fool's Gold"
$ 4.99
Regular price
$ 7.99