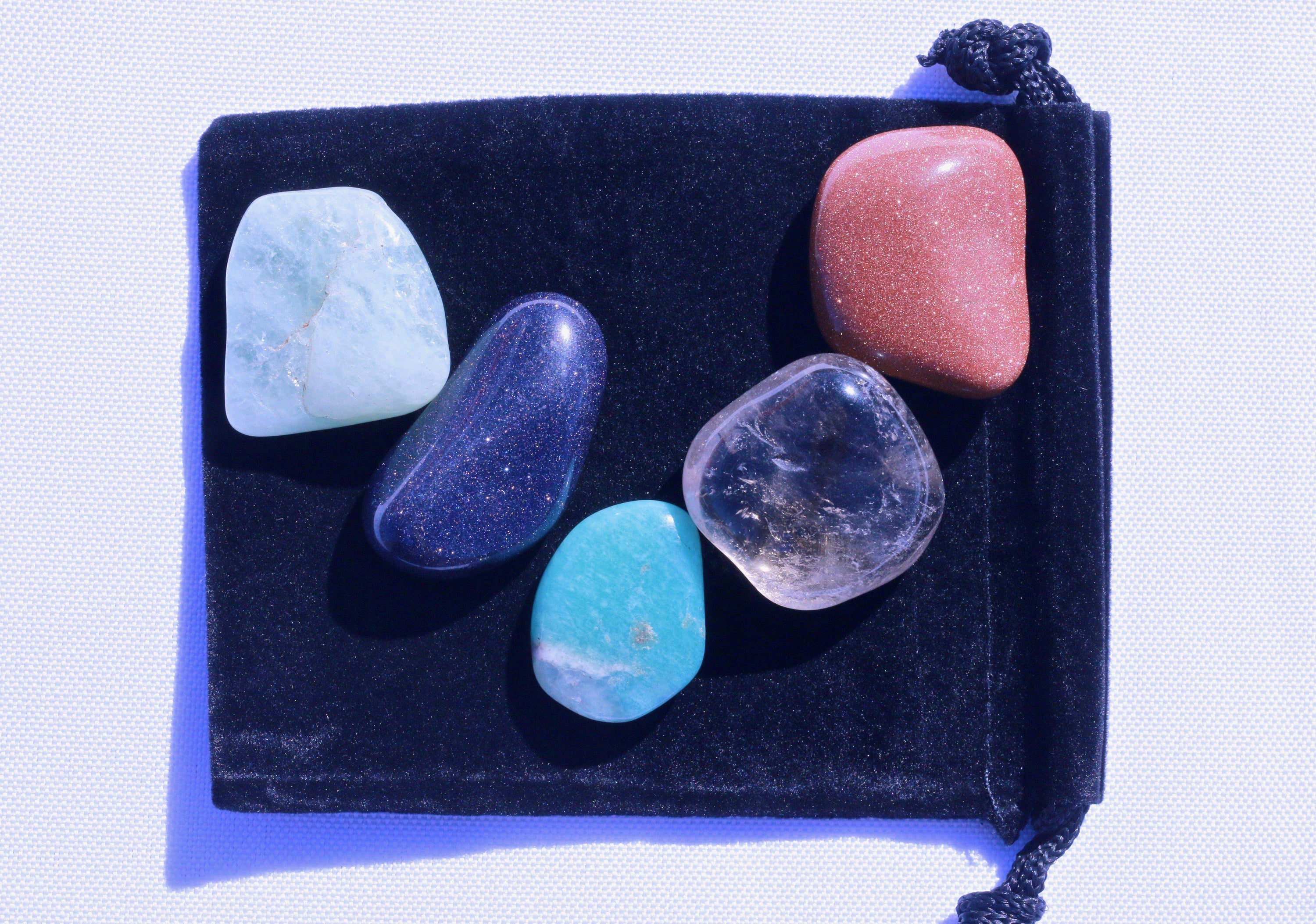 "Good Luck / Fortune" Healing Gemstone Collection Bag
$ 18.50
Regular price
$ 20.00
Subscription • Save
Crystals for Good Luck & Good Fortune
Feeling lucky? This healing gemstone collection has been hand selected to increase your own personal luck as well as the luck to the people in your life.
Amazonite, Goldstone, Aquamarine, Smoky Quartz, and Blue Goldstone are jam packed with lucky energy and are the best gemstones you can use for good luck. Whether its one thing in particular you need to go well, a loved one who is down on their luck, or you just need a little extra luck in your life, this collection can help you out.
Bring this with you in your pocket to bring luck into every interaction, keep it by your bedside to provide you and your loved ones with extra luck, or keep it in your car to bring luck to your travels. Any way you want to use it, it's all about intention at the end of the day. Here's to getting lucky!
"Good Luck / Fortune" Healing Gemstone Collection Set
For this "Good Luck / Fortune" Healing Gemstone collection, we have hand selected 5 healing stones: Amazonite, Goldstone, Aquamarine, Smoky Quartz, Blue Goldstone. The set includes one of each of these along with a bag. 
Amazonite
1st Crystal – Good Fortune – Success – Health, Business, Competition Luck
Amazonite attracts multiple types of luck. It brings good luck in health, business, and competition. It serves as a good luck charm when playing games of chance, recovering from an illness or injury, or for just promoting good overall health. It also brings luck that helps you avoid future injury as well as attracting profitable business opportunities to you. It is known as the "Gambler's Stone," and encourages good fortune and overall success.
Goldstone
Attracts Abundance – Attracts Fame and Recognition - Dreams Come True
Goldstone is a miraculous gemstone with many lucky benefits. It attracts abundance and good luck in general. It forms a reflective barrier that repels negative energy and provides spiritual protection. It uplifts and helps bring light into the darkness. It shoots bad luck away, promotes good luck in trying to achieve your dreams, and provides you with increased drive in order to make your dreams come true. It also attracts recognition, success, and fame.
Aquamarine
3rd Crystal – Good Luck – Fortune and Success –Luck in Relationships
Aquamarine is an incredible gemstone for increasing your luck. It encourages good fortune, luck, and success. Known as the "Seawater Stone," it helps us to flow with the waters of life. It promotes good luck in relationships and in health and promotes fearlessness and protection from bad luck. It specifically provides luck when we are tackling ambitious endeavors and allows us to do so with ease. Being the seawater stone, it is used as a good luck charm for anyone traveling by water and anything related to water.
Smoky Quartz
4th Crystal –Attracts Wealth – Luck in Achieving Goals –  Protection
Smoky Quartz brings good luck to every aspect of your life. It attracts wealth to you like a powerful magnet and increases your luck in wealth finding its way to you. It also provides luck in relationships and luck in completing all your long-term goals. It also protects your home or car against theft, accidents, and breakdowns. When carried in your pocket, it protects you from bullying, robbery, and potential attack.
Blue Goldstone
5th Crystal – Attracts Recognition – Luck Generator – Brings Success
This gemstone provides a soothing, yet energizing energy that makes dreams come true and acts as an energetic generator. It provides good luck and grants wishes. Blue Goldstone attracts recognition, success, and fame. It improves intuition and psychic ability. It brings new beginnings and balance to you and provides you courage, motivation, and inspiration to be anything you want to be.
How to Meditate With Good Luck / Fortune Crystals
These crystals help deepen and strengthen the results of meditation and chakra opening. Each crystal has a different energy, and some crystals work to enhance the energy of the chakras.
When you meditate with crystals that share the energy of the chakras (chakra crystals), your meditation practice and your results will be more powerful. You might choose to place the chakra crystals in your palm as you meditate, or you can place them on the body in the area of each chakra while lying down (the clear quartz will be placed above your head).
As you meditate, visualize the chakra crystals pouring their energy into your chakras one at a time.
Our Shipping & Return Policy
All items 70 lbs. and under ship within 48 hours. All other items will ship within 3 business days via pallet. We have years of experience with handling these items, and we ensure that your crystal arrives in mint condition. In cases of large items, please include a phone number so the freight company can schedule delivery.

All items are 100% insured and expertly packed in top quality shipping materials. Returns are accepted for practical reasons. Buyers are responsible for filing insurance claims.
International Shipping 
Please include a phone number for the duty entry process. All international shipping prices are calculated automatically when you place your order online, but you are welcome to contact us directly for more precise shipping quotes.
We are a top rated, award-winning mineral dealer offering fine mineral specimens for sale at sensible prices with outstanding customer service. We have a 99% satisfaction rate, we value our customers tremendously, and we take pride in providing an excellent experience.
"Good Luck / Fortune" Healing Gemstone Collection Bag
$ 18.50
Regular price
$ 20.00